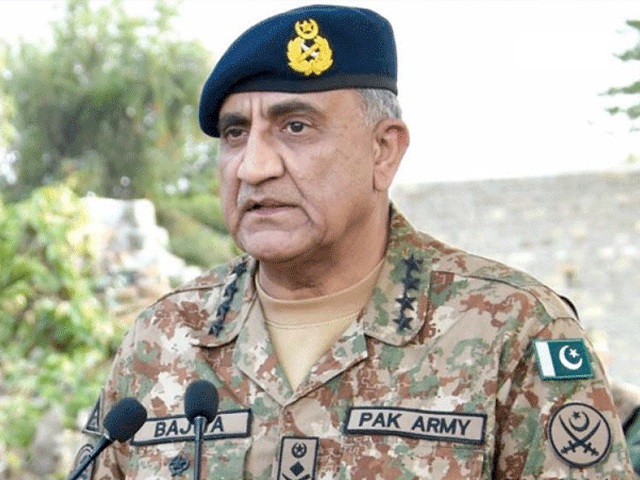 ---
QUETTA: Chief of Army Staff (COAS) General Qamar Javed Bajwa said on Saturday that keeping the law and order situation of Balochistan under control was the main goal of armed forces as Pakistan's progress was linked to peace, stability and progress of the province.

He said this while meeting Balochistan Chief Minister Jam Kamal Khan in Quetta, said a statement issued by the Inter-Services Public Relations (ISPR). Security situation in the province was discussed during the meeting, it added.

COAS, US commander discuss Afghan peace process

CM Kamal appreciated efforts of the armed forces aimed towards enabling security environment for execution of socio-economic development projects as part of 'Khushal Balochistan' program.

General Qamar said fencing the Pak-Afghan border and enhancing security coordination on the Pak-Iran border shall further improve the security situation of the province.

CM Kamal has always acknowledged security forces role in provincial development. During a passing-out parade of Balochistan recruits on Friday, the CM said in addition to border security Pakistan army has been rendering its services for improving the education sector in the province.
He said that Balochistan is a vast province of the country in terms of land mass and quality of education remained the prime issue of the province.

Kamal said: "Quetta Institute of Medical Sciences, Balochistan Institute of Technical Education Gwadar, Military College Sui and Balochistan Public School Sui have been imparting our children modern education".

Balochistan is an integral part of Pakistan and rich in natural resources, he added.

"Balochistan remained behind from all provinces in all fields — provincial government with the assistance of Pakistan Army has taken positive steps to boost provincial economy — Chamalang Coal Mine Project, Duki Mine Project, Kasa Marble Project and Water Schemes in Dera Bugti have been changing the poor masses' life in Balocistan," said Kamal.

Moreover, he lauded the forces for maintaining peace in tribal areas of Khyber-Pakhtunkhwa and Balochistan.

He lauded COAS General Qamar Javed Bajwa and Commander Southern Command Lieutenant General Asim Saleem Bajwa for special attention towards Balochistan. The CM said "Today 19,868 soldiers from Balochistan are serving in army that is all-time high."

Provincial ministers, MPAs, GOC 41 Division Irfan Ahmed Malik, civil and military officials were present in the parade where 265 were recruited.

The chief guests awarded prizes to recruits for their distinguished individual performance during the training.

Recruit Nasrullah won COAS Cane for being the best recruit while recruit Jamil won gold medal.

Through special efforts by army and the government recruitment base from Balochistan has increased during the recent years.