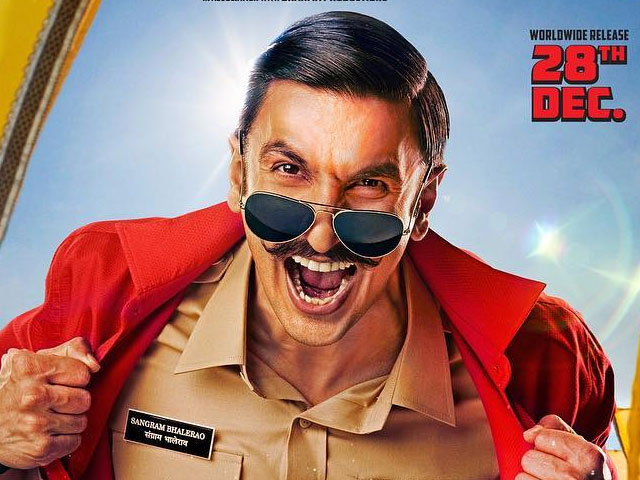 ---
KARACHI: In Simmba, the titular character – played by Ranveer Singh – meets his lady love and describes his story as "Dabangg meets Hum Aapke Hain Koun." But the film is mostly just Dabangg and Singham, shot by Bollywood's very own Michael Bay: Rohit Shetty. That's the most appropriate description I can come up with.

The over-the-top, throwing emotions in your face, loud-as-Transformers style works for Simmba – a spinoff of the Singham franchise where Singh succeeds Ajay Devgan as the vigilante cop. Shetty throws in a twist though: Simmba is corrupt but turns sides after a tragedy strikes those close to him. Nothing innovative, but the film-maker follows the classic masala formula to the T and makes sure Simmba succeeds as a massive entertainer.




Singh's portrayal of a tall, animated, loudmouth, mustache-sporting, South Indian buff policeman who spews sharp but not-so-witty one-liners fits his real personality. Therefore, it's no surprise he does the role justice. Of course, the amplified projection feels overdone and outmoded but that's classic Shetty and if sticking to this has worked for him so far, why change now?

What is fascinating about Simmba isn't the protagonist's story or motivations, his wacky tactics or even his love story, which only serves as a minor subplot. There is no novelty factor as we've already seen all of that before. But what catapults the policeman into a fan favourite is a controversial move: after two goons rape and murder his "munh-boli-behn," he shoots them in cold blood instead of waiting on the judicial system.




Here is a cop who kills thugs in a staged encounter. This makes you wonder if the film is justifying the police breaking the law and plain encounters of criminals. Is it suggesting the judicial system is too flawed to provide justice to laymen? Perhaps, it is doing both.

However, the treatment of Simmba and how it works its way around suggest otherwise. It somehow, cleverly, does justify these actions. It emphatically says, 'Yes, the system is flawed and the police can be corrupt too. And (jumping on to the #MeToo bandwagon) rapists should be punished no matter what.'




Yet, by the end, it somewhat renews the integrity of the judiciary and suggests that it must change too. Even in covering a larger ground on the portrayal of police officers, dealing with criminals and protecting women, Shetty manages to pull off an entertaining film.

Simmba suffers from the insertion of too many songs in its near-three-hour duration but some of the scenes are so well done, you will want to whistle and clap in the cinema. And that's just what the team was aiming for. Simmba doesn't try to be an intellectual film but it's not a mindless entertainer either, existing somewhere in between and being content there.




Not to mention, Shetty is carving a Singham universe with vigilante cops with epic mustaches running wild, serving jaw-breaking slaps and justice. After Singham and Simmba, we see a teaser of a new third cop in a possible next installment.

Verdict: Even in covering a larger ground on the portrayal of police officers, dealing with criminals and protecting women, Shetty manages to pull off an entertaining film.

Rating: 3 out of 5 stars

Have something to add to the story? Share it in the comments below. 
COMMENTS
Comments are moderated and generally will be posted if they are on-topic and not abusive.
For more information, please see our Comments FAQ