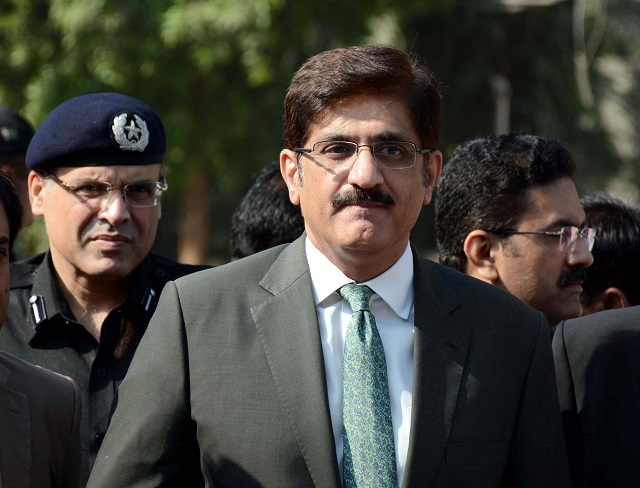 ---
KARACHI: Pakistan Tehreek-e-Insaf (PTI) has demanded the resignation of Chief Minister Sindh Murad Ali Shah after his name was added to the Exit Control List (ECL).

Murad was one of the 172 individuals added to the no-fly list by the federal government in connection with the fake accounts money laundering case.

PTI's provincial leader Khurram Sher Zaman made the demand during a press conference. Haleem Adil Sheikh, on the occasion, alleged that "Shah is a criminal of Sindh and he must step down from chief minister's position".

PTI minister reveals 'tax records' of Zardari's property in New York

Sher Zaman further alleged that the joint investigation team (JIT) report in the fake accounts case exposes PPP's involvement in money laundering.

Murad criticises federal govt

Chief Minister Murad Ali Shah denounced the federal government's failure to "assess itself" and said fingers are being pointed in the name of accountability.

PPP warns govt against Zardari's arrest

The provincial chief executive remarked called PTI an "amatuer party". "Their enmity towards Sindh continues," said Shah, elaborating that the PPP had made enormous contributions to the rural areas of Sindh.

The government released a list of 172 accused in the fake accounts case after JIT led by FIA Director Najaf Mirza – submitted its findings before a three-member apex court bench headed by Chief Justice Saqib Nisar in the suo motu hearing.

Fake accounts case: Govt to place Zardari, Bilawal & others on ECL

The accused, including Zardari's sister Faryal Talpur, Sindh CM Shah, former CM Qaim Ali Shah, Omni Group's Anwar Majeed, Abdul Ghani Majeed, former chairman Pakistan Stock Exchange Hussain Lawai, former president National Bank of Pakistan Syed Ali Raza and others were placed on the no-fly list.