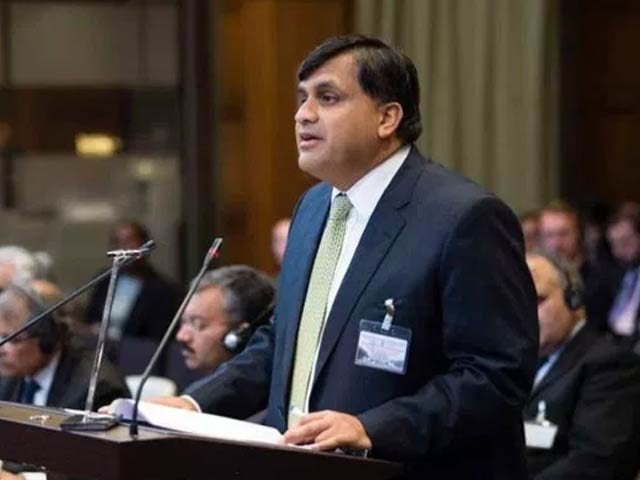 ---
ISLAMABAD: Pakistan on Thursday ruled out any role for India in Afghanistan, as it seeks to develop regional consensus to bring an end to the 17-year-long war in the neighbouring country.

"There is no role for India in Afghanistan," was the response from Foreign Office spokesperson Dr Muhammad Faisal when asked whether New Delhi had any role in the Afghan reconciliation process.

The remarks at a weekly briefing appear to contradict Foreign Minister Shah Mehmood Qureshi's statement earlier this month in the National Assembly in which he said Indian cooperation was needed for the Afghan endgame.

Diplomats' harassment: Pakistan, India agree to resolve issue through talks

Speaking on the floor of the house, Qureshi had said that bringing peace in Afghanistan was a shared responsibility and hence Pakistan could not accomplish this job alone.

For this purpose, the foreign minister added, support of regional countries, including India, was required. "Since India is present in Afghanistan, its cooperation in this regard will also be required," the minister further said.

His statement was seen as a possible shift in Pakistan's policy as it in the past opposed any role for India in Afghanistan.




Foreign office spokesperson Dr Muhammad Faisal says #Pakistan will continue to play a constructive role for promoting peace and reconciliation process in #Afghanistan to bring lasting peace and stability to the region. pic.twitter.com/5wsl4w8nZn

— Government of Pakistan (@GovtofPakistan) December 27, 2018


But the latest statement by the Foreign Office spokesperson suggested that Pakistan still maintained its stated position.

The United States, nevertheless, wanted India to play a greater role in Afghanistan; something Pakistan viewed with suspicion.

Pakistan believes that India is playing the role of a 'spoiler' because of its secret agencies' growing footprint in Afghanistan.

Faisal's statement came at a time when efforts are under way to seek a political solution to the Afghan problem. Pakistan recently brokered direct talks between Afghan Taliban representatives and the US in Abu Dhabi.

Pakistan's foreign policy not determined by its economic policy: Foreign Office says regarding US aid

Following those negotiations, Foreign Minister Qureshi undertook a four-nation tour to seek greater regional consensus on Afghanistan.

One of the main objectives of Qureshi's visit to Afghanistan, Iran, China and Russia was to strengthen regional consensus on Afghanistan that the key for medium to long term sustainability of an Afghan-led and Afghan-owned solution, according to Faisal.
COMMENTS (3)
Comments are moderated and generally will be posted if they are on-topic and not abusive.
For more information, please see our Comments FAQ