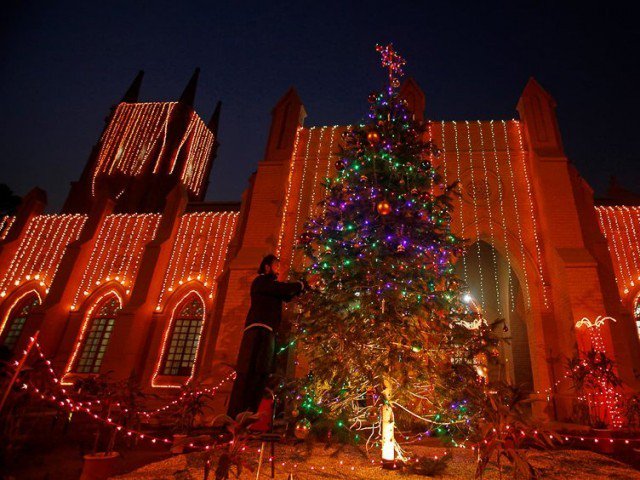 ---
LAHORE: Punjab police has devised a comprehensive security plan for Christmas on Tuesday. All security arrangements have been finalised, stated Punjab Police Inspector General Amjad Javed Saleemi.

Standard operating procedures have been issued to all field officers to provide security to churches and the Christian community, he added.

A four-layered security plan will be followed during Christmas. Around 21,135 officials will be deputed to provide security to 2,778 churches in the province. The force will include 416 inspectors, 1,198 sub-inspectors, 2,213 ASIs, 1,693 head constables and 15,615 constables. Further, 2,869 metal detectors will also be installed at all entry and exit points.

Wreaths of love, joy, and colours twirl the Christmas Eve in Karachi

Churches in the province have been divided into two categories, A and B; 184 churches have been included in category A while 630 have been included in category B. All individuals will be frisked before being checked with metal detectors and walkthrough gates. Roads leading towards celebrations will be cordoned off using barbed wire
and barricades. All field officers were directed to ensure security at churches, parks and other public places. Moreover, 1,362 CCTV will monitor security at churches. The IGP also directed that all DPOs and field officers remain in close liaison with leaders from the Christian community so that Christmas celebrations are not marred by
any incident. Men in civilian clothes will also be deployed to keep an eye on suspicious people and activity, while teams from the Police Response Unit and the Dolphin Squad will also be on patrol. Extra wardens will be deployed to maintain traffic flow. The IGP appealed to the Christian community to extend their cooperation so that
the event is more pleasant and peaceful. He also urged that they report any suspicious people or activity to the police helpline.

Cleanliness arrangements The Lahore Waste Management Company (LWMC) released its Christmas plan in order to maintain overall cleanliness around Christian neighbourhoods, missionary schools, bazaars and churches across the city. Separate rosters for staff, waste collectors and transportation companies have been issued to two Turkish companies, Albayrak and Ozpak, while 140 major churches have already been washed mechanically. Adjacent areas and roads leading to churches will also be swept manually and mechanically, while lime will be spread on pavements to make them cleaner. LWMC Operations Deputy General Manager Asif Iqbal will lead the managerial and monitoring teams.
COMMENTS
Comments are moderated and generally will be posted if they are on-topic and not abusive.
For more information, please see our Comments FAQ