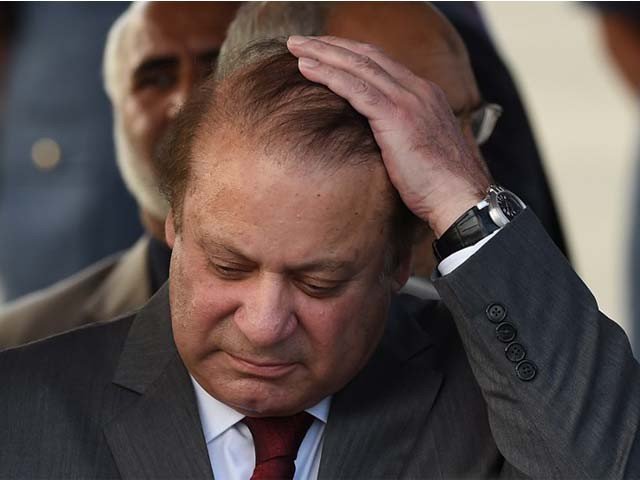 ---
ISLAMABAD:

An accountability court on Monday sentenced former prime minister Nawaz Sharif to seven-year rigorous imprisonment after it found him guilty in Al-Azizia reference, one of the three graft cases filed by the National Accountability Bureau (NAB) in line with the apex court order.

The Supreme Court on July 28, 2017 disqualified Sharif in Panama Papers case and ordered NAB to file separate cases which were respectively called Avenfiled, Al-Azizia and Flagship references.

Sharif and his family members have already been convicted in Avenfield case. However, the accountability court judge Muhammad Arshad Malik on Monday acquitted Sharif in Flagship reference.

In his verdict in Al-Azizia case announced at around 3pm in presence of former PM, the judge said the accused No 1 (Nawaz Sharif) is held guilty for the offence of corruption and corrupt practices and accordingly, is convicted under section 10 of the NAO 1999 'read with schedule thereto'.

"And consequent upon his conviction, having regard to the facts and the circumstances of the case, the convict is hereby sentenced to rigorous imprisonment for a term of 07 years along with a fine of Rs1.2 billion and 25 million US dollar," said order.

According to the judgement, Sharif is disqualified to hold any public office for a period of ten years. Likewise he will not be allowed to apply for or be granted or allowed any financial facilities in the form of loan or advances or other financial accommodation by any bank or financial institution owned or controlled by the government for a period of 10 year from the date.

"A certified copy of this verdict has been delivered to the convict free of cost who has been informed that if aggrieved, he may prefer an appeal before the high court within ten days in accordance with section 32 (a) of the Ordinance," said the order. The court also declared that both accused sons of Sharif – Hussain and Hassan – are absconding and have already been declared as proclaimed offenders.

"Perpetual non-bailable warrants of arrests be issued against them. NAB authorities enter their names in the relevant register of POS under intimation to this court.

"Reference file with all of its documents, evidence and material be kept intact till absconding accused Hasan and Hussan appeared or arrested and brought before the court to face the trial. File till then be consigned to record room after completion and compilation," it said.

Later, the court also accepted Nawaz Sharif's plea to detain him in Lahore's Kotlakhpat jail rather in Rawalpind's Adiala Jail. However, the NAB authorities shifted him to Adiala from where he would be moved to Lahore today (Tuesday).

Before announcement of the verdict, former premier Shahid Khaqan Abbasi was not allowed to enter the court premises where a heavy contingent of law enforcing agencies personnel was deployed.

A large number of the Pakistan Muslim League-Nawaz workers and supporters had gathered outside the court. These workers chanted anti-government slogans after announcement of the verdict and also scuffled with the riot police which used teargas canisters to disperse them.




The verdict

The judge in his 131-page judgment in Al-Azizia corruption reference concluded that the prosecution (NAB) successfully established all the ingredients of the offence of corruption and corrupt practices against Nawaz Sharif as defined under section 9 (a) (v) of the NAO 1999 read  with section 14 (c).

"Thereof as per the charge  framed for holding and being true and real beneficial owner of the assets, the Al Azizia Steel Company Limited (ASCL), the Hill Metal Establishment (HME) and related remittances, beyond his known sources of income as he failed to establish contrary thereto."

The court said it is satisfied and conclude that Sharif as a stratagem avoided appearing before the investigation officer so as to avoid to respond to questions with regard to the issues which are now the subject matter of this reference and avoid being confronted with the glaring absence of money trail documentary evidence and material divergence, gaps and inconsistencies in the version of Nawaz Sharif.

The court noted that Sharif elected not to produce a single witness in the defence.

The order said Nawaz Sharif and his sons – Hussain and Hassan – are very closely related and members of a tightly knit, monolithic, patriarchal family with close association and jointly held financial business interests. There is nothing on record to suggest that there is any hostility between the three.

It also held that claim of Sharif that he has no beneficial interest or share in ASCL is unsubstantiated, false and fabricated and his son Hussain Nawaz was never the exclusive nor real and beneficial owner.

The latter essentially being a mere benamidar of his father who was holding his father's share in ASCL but in reality for the benefit of his father who was true and real beneficial owner," said the judgment.

The court is not satisfied that pattern and manner in which remittances were made between 2010 and May 2017 cannot reasonably be characterised as genuine and bonafide gifts from a son to his father.

The remittances are made at regular intervals at times almost on monthly basis suggesting these are not a regular source of income from an owned business without which Sharif could not be able to maintain himself.

It said Sharif ostensibly received these gifts to free him from any financial constraints given his full time involvement in politics but in actual fact admits to having utilised about 70 percent thereof as owned disbursement to his daughter, Maryam.

"The record suggests that money was circulated through HME and Hussain Nawaz to the accounts of Nawaz Sharif under the garb of gifts and factually it was a device for equitable shares in the assets and money of accused (Nawaz) being father to his children," said the order.

The court said evidences shows that Nawaz over a sustained period received the lion's share (in excess of 88 per cent) of the stated net profit of the HME and this fact establishes that Nawaz is a beneficiary of major portion the fruits (net profit) of HME.

"The true and real beneficial owner of ASCL was and HME is the accused No1 (Nawaz Sharif) his elder son and absconding co-accused was merely an ostensible owner holding the said assets for the benefit and enjoyment of his father," said the order

The court said it is established from the record that an aggregate amount of Rs272.54 million and $52,460 dollar have also been remitted by the HME to the account of its employee Muhammad Hanif Khan during the period 2010 to 2015 and an amount of Rs173.455 million was remitted by HME to one Anjum Iqbal Ahmed Akhtar during 2013 to 2017.

"An amount of Rs36.715 million has been sent by HME into account of Abdur Razzaq from November 2016, Rs11.991 million remitted by HME to Muhammad Anees and $52,460 remitted by the HME to Khawaja Haroon Pasha."

The order said throughout the trial proceedings Sharif raised legal objections regarding the banks documents but he neither during cross examination nor his statement under section 342 CrP C he has questioned the correctness of the figured amounts having been remitted from HME or Hussain Nawaz in his accounts being maintained  in different banks.

Remittances of dirham 12,67,856 and $1,02,19,155 were received by Sharif from his elder son Hussain Nawaz and from the HME during the period from January 2010 to June 2017 and these foreign currency receipts were converted and credited to his rupee accounts which translates to Rs1.187 billion."




Legal opinion

Legal experts believe that punishment is not proportionate to seriousness of the offence alleged. Because of lesser quantum of sentence he may be released on bail. However, the experts believe that in high profile cases, the courts like to exercise their discretion rather than following set judicial policy while granting bail or suspending sentences of the convicts.

Likewise, after getting remission, convicts can be released after spending half of sentence.

Legal experts note that there is no consistency in the award of sentences by the accountability courts. It has been witnessed that the court awarded ten years of sentence in financial matter of Rs10 million while in present matter the court has preferred to award seven-year sentence.

A constitutional petition has already been filed in the SC, seeking directives for the federal government and NAB to formulate and prescribe appropriate sentencing guidelines for white-collar crimes.

The petitioner, Aman Ullah Farooq, has requested the SC to direct NAB to act only in mega corruption case as, according to him, the bureau has also been taking cognisance of lesser cases, departing both from its statutory mandate and its own guidelines and standard operating procedures (SOPs).


COMMENTS (2)
Comments are moderated and generally will be posted if they are on-topic and not abusive.
For more information, please see our Comments FAQ