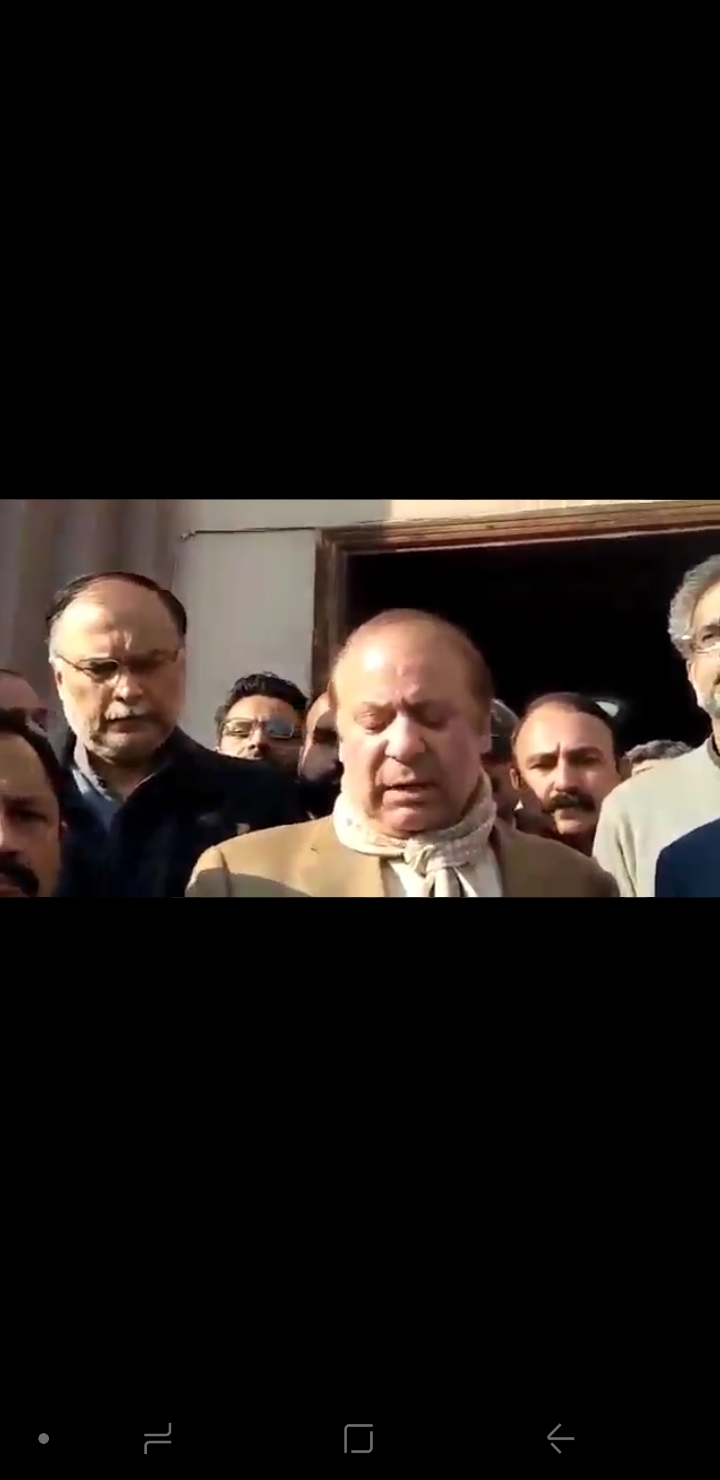 ---
ISLAMABAD: Deposed premier Nawaz Sharif reiterated on Wednesday that his conscience was clear as he was not "involved in any corruption".

The remarks by the PML-N supremo came as he was leaving the accountability court after attending the day's proceedings.

The court is set to announce its verdict on December 24 in the remaining two corruption references against members of the Sharif family.


آج عدالت نے فیصلہ محفوظ کیا
عدالت 24دسمبر کو فیصلہ سنائے گی
یکجہتی کا اظہار کرنے پر پارٹی راہنماوں اور کارکنوں کا شکریہ ادا کرتا ہوں
خواتین کارکن بھی بڑی تعداد کیس میں میری سپورٹ میں حاضر ہوتے رہے ہیں pic.twitter.com/l1e6wHE6lY

— PML(N) (@pmln_org) December 19, 2018
ہم ملک میں سی پیک لائے, معیشت کا پہیہ چلایا.ملک میں ہمارے دور میں امن قائم ہوا
ملک میں دہشتگردی کا ناسور ختم کیا
ملک کو ایٹم بم کی طاقت ہم نے بنوایا
ہماری خدمت کا صلہ یہ ملا کہ مفروضوں پر کارروائیاں ہو رہی ہے.نوازشریف pic.twitter.com/luz1jJcMOC

— PML(N) (@pmln_org) December 19, 2018


"According to the records of the registrar office, I was presented before the court 78 times," said Nawaz, adding that earlier in accountability court number 1, I was present 87 times, hence, have attended 165 hearings," the PML-N supremo stated.

Nawaz Sharif seeking 'NRO' for Maryam: Sheikh Rashid

There are no accusations against me for receiving kickbacks or misusing authority, added Nawaz, "I fail to understand why such treatment is being meted out."

"I have served the masses for 35 years, twice as a chief minister and thrice as the prime minister," said the deposed premier, adding that he has served the country with dedication.

Nawaz Sharif has no link to sons' business, court told

Referring to the ongoing corruption trial against members of the Sharif family, Nawaz said the ongoing legal proceedings are based on "assumptions, speculations and ideas".

Nawaz, however, stated that he firmly believes that the court will hand out a fair judgement.