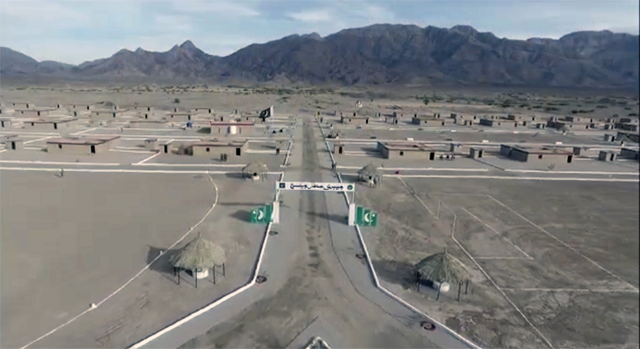 ---
The Pakistan Army on Wednesday handed over a model village, comprising homes and shops, to the displaced victims of the September 2013 twin earthquakes in Balochistan.

The deadly earthquakes, measuring 7.7 and 6.8, killed more than 800 people.

The model village, situated in Awaran district's Mashkai area, has basic facilities such as schools, markets, water supply and solar-power.

According to Inter-Services Public Relations (ISPR), the project was built on a self-help basis by the Army in six months.

"Locals showed complete satisfaction over the efforts of [the] army for peace and stability and socio-economic development in the area," said the military's media wing.

Army to facilitate Balochistan in every possible way, says Gen Asim

Southern Command Lieutenant General Asim Saleem Bajwa handed over the keys to the allottees.

Over 400 people died when the first earthquake struck the southern province on September 24. The second occurred four days later. The aftermath saw thousands injured and displaced.

The earthquake destroyed houses and cut communications with the worst affected district of Awaran, and was so powerful it caused a small island to emerge from the Arabian Sea, just off the Pakistani coast.

To the south, on the beach near Gwadar port, crowds of bewildered residents had gathered to witness the rare phenomenon of an island that the quake thrust up out of the sea.