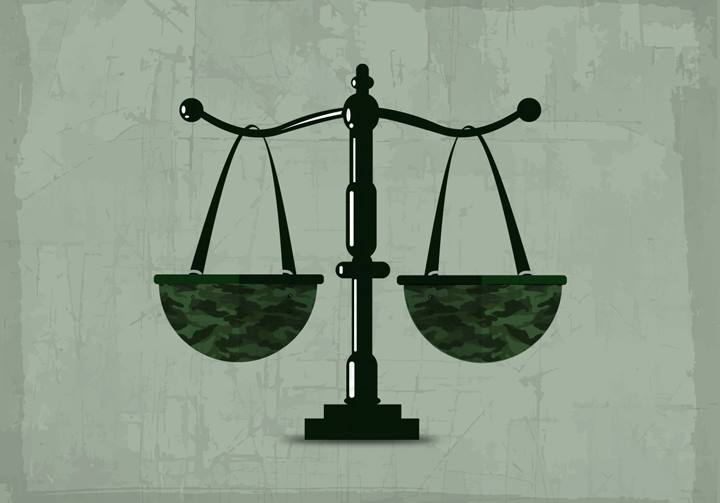 ---
ISLAMABAD:

The Pakistan Tehreek-e-Insaf (PTI) led government is contemplating to further extend term of the military courts, which were set up in the wake of December 16, 2014 massacre of schoolchildren in Peshawar to stem the growing tide of militancy and terrorism.

The swift trial courts were established through a constitutional amendment with a 'sunset clause' for a period of two years. Their term was extended in January 2016 for another two years and this extension is also going to end by the beginning of January 2019.

In the prevailing political scenario, giving another extension to military courts through a constitutional amendment will be an uphill task for the PTI's federal government.

The government has recently conceded to allow the National Assembly Opposition Leader Shehbaz Sharif chair the key Public Accounts Committee (PAC). However, despite that the government's relationship with key opposition parties is quite tense.

PHC suspends death sentence of military court convict

Talking to The Express Tribune, a senior government official confirmed that the government wants to extend the military courts' term, which will end on January 6.

However, the official did not reveal how an extension through a constitutional amendment would be made possible when the government does not have two-thirds majority in parliament and the opposition is in no mood to sit with the government on any issue.

SHC rejects pleas against death penalty by military court

A senior Pakistan Peoples Party (PPP) leader while talking with reference to another issue said his party will evolve its strategy after a bill is tabled in the house.  A senior PTI minister said he has recommended amending the anti-terror laws instead of extending military courts through constitutional amendment.

Most political analysts believe that if the government brought a constitutional amendment then opposition parties would demand many more concessions.

Two days ago, the Inter-Services Public Relations (ISPR) issued a statement that said since the establishment of the courts, the federal government had referred to them 717 cases.  Five forty six (546) out of these 717 cases had been finalised by the military courts.

Out of these 546 finalised cases, 310 terrorists had been awarded death penalty while 234 were awarded rigorous imprisonment of varied durations ranging from life imprisonment to 5-year imprisonment. Two accused had also been acquitted.

Fifty-six (56) people from among these 310 convicts have been executed after completion of legal process which included their appeals in superior courts and rejection of mercy petitions both by the army chief and the president.

Execution of the remaining 254 terrorists is pending completion of legal process in higher courts.

The Supreme Court on August 5, 2015 upheld establishment of military courts to try terror suspects in a majority ruling but said the superior judiciary could still review any judgement passed by them.

Majority judges led by Justice Sheikh Azmat Saeed endorsed establishment of the courts on the ground that it was a temporary phenomenon.  In 2016, an SC larger bench also endorsed trial of militants conducted by these courts.

Two months ago, the Peshawar High Court (PHC) set aside convictions of 73 persons convicted on terrorism charges including suicide attacks and killing of security personnel and civilians.

However, the SC while hearing the Defence Ministry's plea last month restrained the authorities from releasing the 73 individuals. The matter is still pending in the SC.


COMMENTS (1)
Comments are moderated and generally will be posted if they are on-topic and not abusive.
For more information, please see our Comments FAQ