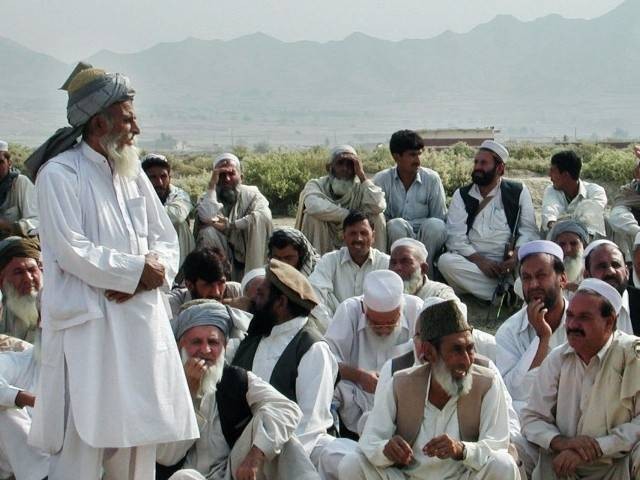 ---
PESHAWAR: As uncertainty clouds the functioning of the FATA Secretariat in Peshawar, the tribal population is facing difficulties in having their issues addressed.

A few days ago, families of 23 deceased levy force personnel, killed by militant commander Tariq Afridi in Dara Adam Khel in 2013, staged a protest demonstration in front of the secretariat in Peshawar.

The secretariat was established after 9/11 on the demands of the people FATA, at a time when the people from tribal areas were not happy with the then Khyber Pakhtunkhwa (KP) home department and others linked to it.

The families demanded due rights for the martyred personnel and compensation, on the same lines as other martyred paramilitary personnel, including residential plots, running salary, pension, education for children of martyred personnel and other benefits.

The families, deprived of these rights, have only received a one-time compensation of Rs3 million.

FATA to integrate secretariat into K-P

The KP cabinet under senior minister Muhammad Atif Khan had formed a committee to review a strategy for merging FATA's secretariat with K-P's civil secretariat, but the committee was abolished unofficially, following the apex committee meeting with the KP information minister.

Shaukat Yousafzai said the secretariat was not abolished but said that "most of the committee members are now apex committee members", adding that the FATA secretariat is now under the provincial secretariat.

Rs8b set to lapse over slow utilisation of Fata funds

After 18 years, the development in the tribal districts does not compare to funds received and the secretariat faces allegations of corruption.

The secretariat also failed to frame any strategy for its employees including levy and Khasadar force officials and others who have been martyred in the war against terror in erstwhile FATA.

During Sartaj Aziz's tenure, the FATA reforms committee visited the tribal areas and assured tribesmen that services of levy and Khasadar forces will not be abolished

Although K-P government officials assured the personnel of the paramilitary forces that their services will be regularised and will be merged into police, the provincial police chief claimed to employ 30 thousand police for erstwhile FATA.  Police officials repeatedly claim that the force has already started working against the wishes of civil bureaucracy working in erstwhile FATA, and the Special branch and CTD are establishing its network in these areas with the help of pro-police local informers and certain levy force officials.

Financial issues are present as well, in May, it was promised that 3 per cent share will be given to erstwhile FATA in the NFC, instead of providing the share, the government has also failed to provide a special package to the districts.
COMMENTS
Comments are moderated and generally will be posted if they are on-topic and not abusive.
For more information, please see our Comments FAQ