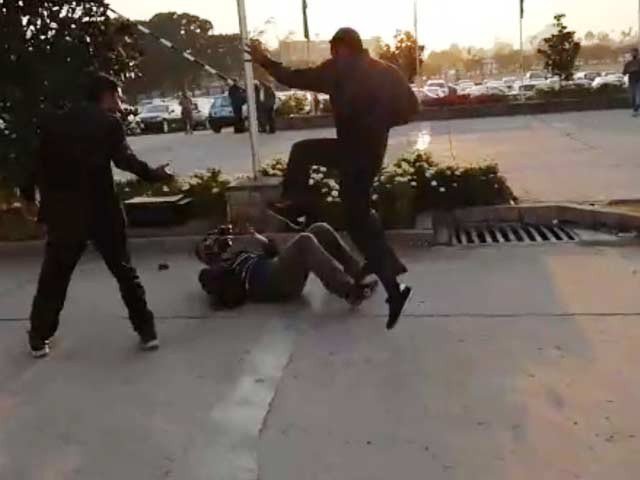 ---
In yet another display of VIP culture, a private security guard of former prime minister Nawaz Sharif injured a cameraman of a private TV channel after thrashing him for videotaping the PML-N supremo in Islamabad on Monday.

The incident took place outside the parliament house in the federal capital, where Sharif met his younger brother Opposition Leader in National Assembly Shehbaz Sharif before chairing a high-level party meeting, Express News reported.

Former prime minister Shahid Khaqan Abbasi, Rana Sanaullah, Sardar Ayaz Sadiq, Iqbal Zafar Jhagra, Pervez Rashid, Amir Muqam and Ahsan Iqbal among other PML-N leaders attended the meeting.

PML-N indecisive over planned convention to mark foundation day

The highly deplorable incident happened when the local media was covering Nawaz Sharif's departure from the parliament building. One of his security guards attacked the vulnerable media man, kicking his face and jumping over his body after subduing him.


نواز شریف کے سیکیورٹی گارڈ کا کیمرہ مین پر تشدد

مزید ویڈیوز دیکھیں: https://t.co/ptW8gC4xDR pic.twitter.com/vGrc1d7tuf

— Express News (@ExpressNewsPK) December 17, 2018


Journalist, present on the spot, intervened and prevented further violence. They tried to hand over the culprit to police, however, people allegedly belonging to PML-N came to his rescue and helped him flee the scene.

Later, journalists staged a protest demonstration outside the parliament house and stopped lawmakers from entering the building. Urging the government of taking notice of the incident, they demanded a swift legal action against the suspect.

Meanwhile, Information Minister Fawad Chaudhry has condemned the incident, saying the government fully believes in freedom of expression and is standing with media workers.

In a statement, he said former PM Nawaz did not bother to stop even after witnessing the whole episode.

Seeking details of the incident from the journalists, Fawad said legal action will be taken against those found responsible.

The accused, identified as Munsif, was later arrested by the Islamabad Police. They also registered a case against the security guard.

Meanwhile, Prime Minister Imran Khan's Special Assistant on Capital Development Authority (CDA) Affairs Ali Nawaz Awan visited PIMS hospital and inquired after the injured cameraman.


COMMENTS (2)
Comments are moderated and generally will be posted if they are on-topic and not abusive.
For more information, please see our Comments FAQ