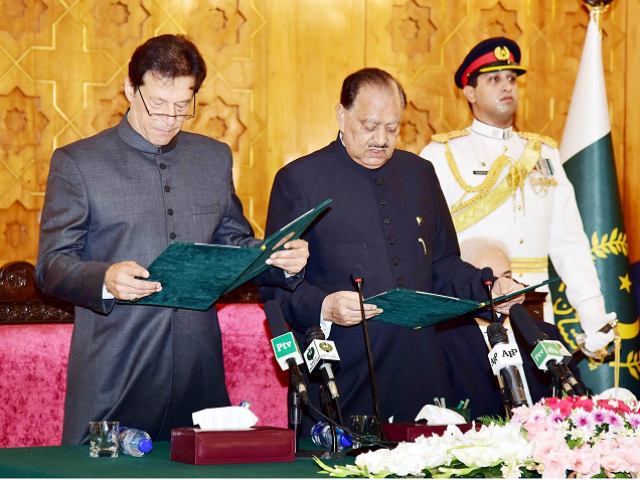 ---
With December halfway through, The Express Tribune takes a look at some of the top national developments of the year.

US confirms withholding $225 million military aid to Pakistan (January 2, 2018)




The decision came after President Donald Trump lashed out at Pakistan alleging that the US got "nothing but lies and deceit" from Islamabad in the war against terrorism.

Rape, murder of 8-year-old Zainab shocks Pakisan (January 10, 2018)




Zainab was kidnapped on January 4 from near her aunt's house in Kasur. Her body was discovered five days later from a garbage heap. The postmortem report revealed that she had been raped and murdered.

Naqeebullah Mehsud dead in extrajudicial killing (January 13, 2018)




Mehsud hailed from South Waziristan and was among four suspects killed in an 'encounter' with a police team headed by SSP Rao Anwar in Karachi.

Asma Jehangir dies (February 11, 2018)




Renowned lawyer and human rights activist Asma Jehangir died of a cardiac arrest.

Senate elections: PML-N-backed independent candidates lead in Punjab, PPP in Sindh (March 3, 2018)




The former ruling Pakistan Muslim League-Nawaz gained control of parliament's upper house in a secret ballot after its backed 'independent candidates' won 15 of the 52 seats up for grabs.

Nawaz, Tareen disqualified for life (April 13, 2018)




Curtails fell on political careers of Nawaz Sharif and Jehangir Tareen in an apex court verdict under Article 62 (1)(f) of the Constitution.

Ahsan Iqbal survives assassination attempt (7th May, 2018)

Former interior minister Ahsan who belongs to Pakistan Muslim League-N was shot in Narowal. His would-be assassin was handed a 30 year sentence in jail later in the year.

NA passes controversial transgender persons' bill (May 8, 2018)




The National Assembly passed the controversial "The Transgender Persons (Protection of Rights) Act, 2018" which aims at helping the marginalised community get their rights.

LHC initiates treason trial against Nawaz (May 15, 2018)

Former premier Nawaz Sharif gave controversial remarks in an interview on May 12, stating that "Pakistan had a role to play in 26/11 Mumbai attacks".

NA passes 'historic' FATA, K-P merger bill (May 24, 2018)




In a 'historic' move, the National Assembly voted in favour of a constitutional amendment to merge erstwhile Federally Administered Tribal Areas with Khyber-Pakhtunkhwa.

Avenfield verdict against Sharifs, Nawaz and Maryam jailed (July 6, 2018)




Former premier Nawaz Sharif and two of his family members were found guilty in one of the four corruption references filed against them in 2017.

Supreme Court sets up Diamer-Bhasha, Mohmand Dam Fund (July 7, 2018)




Chief Justice of Pakistan Mian Saqib Nisar set up a fund to collect donations for the construction of dams to combat water crisis.

ANP leader Haroon Bilour, 12 others martyred in Peshawar suicide blast (July 10, 2018)




A suicide bomb attack targeting an Awami National Party rally in a congested neighbourhood of Peshawar left Bilour and 12 others martyred.

Mastung massacre: 128 martyred, over 200 injured in suicide blast (July 13, 2018)




Balochistan Awami Party's Siraj Raisani was martyred along with 127 others in an election campaign rally. The attack was considered the deadliest attack since Army Public School tragedy. The militant Islamic State group claimed responsibility for the attack.

General elections 2018 (July 25, 2018)




Imran Khan-led Pakistan Tehreek-e-Insaf emerged victorious in the July 25 showdown.

31 dead in suicide blast at Quetta polling station (July 25, 2018)




Terror reared its ugly head in restive Balochistan, where at least 31 people including two children were martyred and 37 sustained injuries as the nation went to polls.

Imran Khan sworn-in as prime minister (August 18, 2018)




Imran Khan was sworn in as prime minister in a ceremony devoid of opposition leaders.

Arif Alvi elected 13th president of Pakistan (September 4, 2018)




PTI's candidate Arif Alvi was elected President by the Parliament, The presidential oath was administered by Chief Justice Saqib Nisar.

Kulsoom Nawaz dies (September 11, 2018)




Former first lady Kulsoom Nawaz breathed her last at a hospital in London, following more than a year-long battle against cancer.

Naveed Mukhtar retires as ISI chief (October 1, 2018)




Lt Gen Mukhtar took office as ISI chief in December 2016.

Shehbaz Sharif arrested in Ashiyana Housing scam (October 5, 2018)




The country's top anti-graft body arrested the Pakistan Muslim League-N president over his alleged involvement in a multi-billion rupees housing scam.

Lt Gen Asim Munir named as new ISI chief (October 11, 2018)




Prime Minister Imran Khan approved the appointment of Gen Munir to the post of the director-general ISI on the recommendation of the army chief.

Zainab murder case: Imran Ali executed (October 17, 2018)




Convict Imran Ali was sentenced to death for the rape and murder of Zainab and 12 other minors girls in Lahore's Kot Lakhpat jail.

Aasia Bibi acquitted by Supreme Court (October 31, 2018)




The apex court acquitted Aasia Bibi – a Christian woman accused of blasphemy in 2010 and sentenced to death – and set aside an earlier judgment passed by a lower court.

TLP calls off countrywide protest sit-ins (November 2, 2018)




The Tehreek-e-Labbaik Pakistan called off its countrywide protest sit-ins after reaching an agreement with the federal and Punjab governments in the aftermath of the apex court verdict on Aasia Bibi.

Maulana Samiul Haq assassinated (November 2, 2018)




Haq was assassinated in a knife attack at his residence in Rawalpindi.

SP Tahir Dawar killed in Afghanistan (November 14, 2018)




Senior police official Dawar was found dead in Afghanistan's Nangarhar province, two weeks after he was abducted from Islamabad.

Attack on Chinese Consulate Karachi (November 23, 2018)




Security forces staved off a brazen terrorist attempt to storm the Chinese Consulate located in Karachi's upscale Clifton locality.

31 dead in Orakzai blast (November 23, 2018)




A powerful bomb tore through a bustling fruits and vegetable market in a tribal district of Khyber-Pakhtunkhwa.

Reopening of Kartarpur Corridor (November 28, 2018)




Prime Minister Imran Khan laid the foundation stone of Kartarpur corridor, which connects Narowal's Gurdwara Darbar Sahib to Dera Baba Nanak situated in India's Gurdaspur.

Khadim Rizvi booked for treason, terrorism (December 1, 2018)




Prior to this, Rizvi was taken into "protective custody" as security forces launched a crackdown against the religio-political party.

Trump seeks Pakistan's support in peace talks with Afghan Taliban (December 3, 2018)




US President Donald Trump wrote a letter to Prime Minister Imran Khan, seeking Islamabad's help in facilitating a negotiated peace settlement in Afghanistan.

US adds Pakistan to blacklist for 'religious freedom violations' (December 11, 2018)




Pompeo a year earlier had placed Pakistan on a special watch list — a step short of the designation — in what had been seen as a US tactic to press Islamabad into reforms.

Pakistan remains country of 'particular concern'; no sanctions due to 'national interest': US (December 12, 2018)




The United States clarified that although Pakistan remains on the Countries of Particular Concern list, there will be no additional sanctions other than those already placed owing to "national interest".

Nawaz Sharif found guilty in Al-Azizia reference (December 24, 2018)

An accountability court verdict sentenced former prime minister Nawaz Sharif to seven-year rigorous imprisonment, imposed penalty worth $25 million.

Syed Ali Raza Abidi assassinated in Karachi (December 25)

The former Muttahida Qaumi Movement (MQM) leader was shot outside his residence in Karachi's upscale DHA neighbourhood.