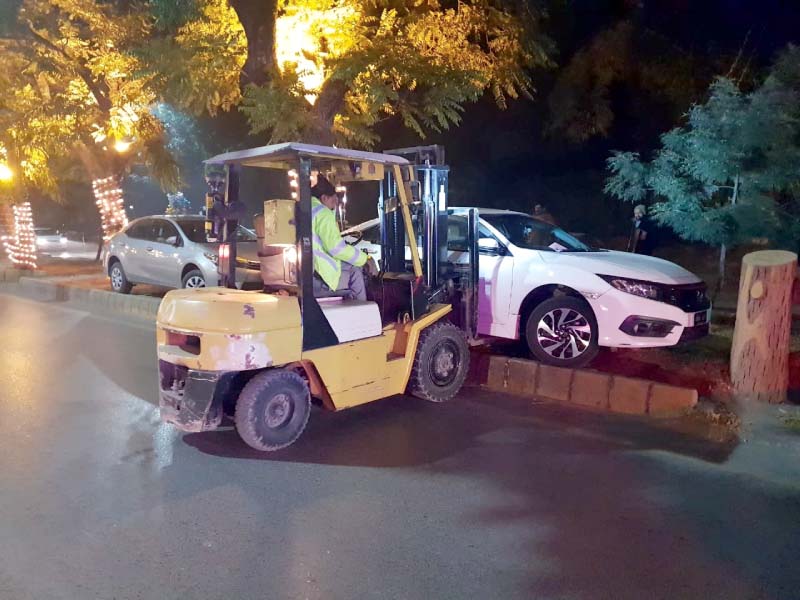 ---
ISLAMABAD: To solve the traffic congestion on the roads of the federal capital, particularly in the markets, the city's traffic police have launched a crackdown on a unique culprit: cars which have been parked incorrectly.

Traffic Senior Superintendent of Police (SSP) Farrukh Rasheed has directed officials to take prompt action against all those drivers who disrupt the smooth flow of traffic and cause an inconvenience for other road users by incorrectly parking vehicles.

The issue presents a particular problem in the main markets of the federal capital including Super Market, Jinnah Super Market, Kohsar Market and the busy Aabpara market.

In this regard, the traffic police started taking formal action on Saturday and fined a number of motorists for their wayward parking.

The traffic police have also constituted special squads for the purpose who will be personally supervised by the Traffic SSP and SP.

One particular problem which the police is tackling is the habit of motorists to park on sidewalks and footpaths, obstructing the path of pedestrians and forcing them to walk on the road. This is a particular problem in some parts of the capital where there are car showrooms.

The Traffic SSP has said that the action will soon extend to other areas of the city including important shopping centres, malls and business zones.

Explaining the reason for the drive, Rasheed said that those parking their vehicles incorrectly and in the 'no parking areas' create a disturbance for others.

He has also appealed to citizens to cooperate with the police in overcoming this issue and avoid incorrect parking.

Published in The Express Tribune, December 9th, 2018.
COMMENTS
Comments are moderated and generally will be posted if they are on-topic and not abusive.
For more information, please see our Comments FAQ