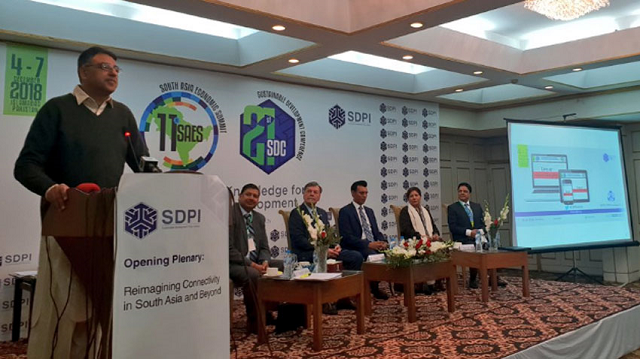 ---
ISLAMABAD: Finance Minister Asad Umar on Tuesday said the country's economic crisis has been successfully overcome with the help of friendly countries, Radio Pakistan reported.

Inaugurating the 11th South Asia Economic Summit organised by Sustainable Development Policy Institute (SDPI) in Islamabad, the finance minister added that the "financing gap for the current fiscal year has been plugged and the fruits of the government's vibrant economic policies will soon be visible".

During his address to the participants of the summit, the finance minister lamented that spreading rumours about the state of the national economy would not do any service to the country.

Umar added that all fundamental economic indicators are now improving, with exports witnessing an upward trend while imports are decreasing and the current account deficit is also being overcome gradually.

The finance minister said there will be no compromise on the independence of the State Bank of Pakistan, rather it will further be institutionalised.

"The state bank's neutrality is intact and we believe in this.. there is no change in policy of the PTI government, SBP would remain autonomous."

Asad Umar notified about rupee devaluation in advance

The decision regarding the exchange rate was taken by SBP and it would continue to take such decisions, Umar stated further.

Referring to economic cooperation with other SAARC countries, the finance minister expressed his disappointment by the attitude shown by India. "The response from the Indian side is unfortunate, we hope that this SAARC cooperation will be strengthened in the future."

"We really need to think out of the box solutions, amid tensions and political confrontations between the two states," said Umar.

He added that the country's growth driver is intra-regional trade, especially between India and Pakistan. "Our ability to meet the need of the people and getting people out of poverty depends on promotion the intra-regional trade and taking steps in the right direction".

PM Office rubbishes reports of Asad Umar stepping down as finance minister

"We can create political space for this to happen, the solution has to come from policy experts and through conferences such as this," said Umar, adding that, leaders need to take bold decisions.

"For a peaceful and prosperous South Asia, we need to cooperate with each other," reiterated the finance minister.

Referring to the recent opening of the visa-free Kartarpur corridor, Umar said the response to the initiative from India was dismal, which was not hoped for.

"Pakistan is hopeful for a positive response from India," Umar said while again reiterating on Pakistan's willingness to engage India in dialogue for resolution of outstanding issues.


COMMENTS (1)
Comments are moderated and generally will be posted if they are on-topic and not abusive.
For more information, please see our Comments FAQ