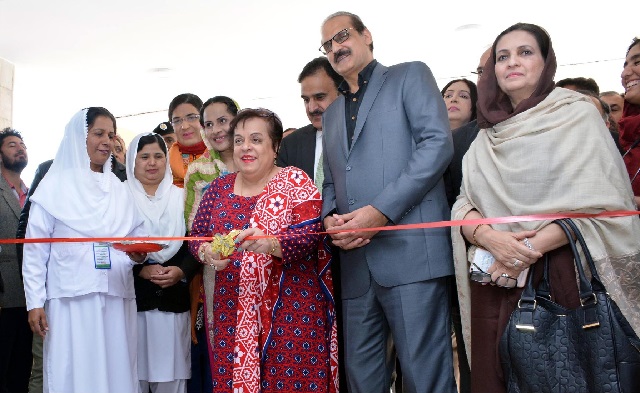 ---
ISLAMABAD: Minister for National Health Services, Regulations and Coordination Aamer Mehmood Kiani on Saturday inaugurated the first transgender ward of the country with three other wards at Pakistan Institute of Medical Sciences (PIMS).

Addressing the inaugural ceremony, the minister said the transgender community had an equal right of access to basic health care facilities.

Kiani said that all necessary medical facilities would be available at this transgender ward while more such wards would be established in other parts of the country.

The minister said the welfare of transgender was a top priority of the government by ensuring the provision of free of cost medical facility for them at public hospitals.

Transgender activists, allies rejoice as historic 'bill of rights' gets parliament's nod

He said the ministry has started restructuring different health facilities and institutions to ensure provision of standard health services to people.

Kiani added that with infrastructural upgradation in the health sector under the vision of Prime Minister Imran Khan, visible improvements were made in public hospitals.

The minister said the government had been working on the construction of four new hospitals at the federal level to reduce the patients' burden on existing hospitals.

He said the government would provide health care facility to a large number of deserving people in the first phase while it has also increased the health card limit.

Minister for Human Rights Dr Shireen Mazari expressed her gratitude to the health minister for allocating space for transgender patients at PIMS.

Mazari felicitated the minister for his immediate reply on the request.

'More effective work required on ground for transgender rights'

She said the allocation of first-ever ward in PIMS was a much needed step for the transgender community and would help end serious widespread ignorance, insensitivity and discriminating attitude of the healthcare, she expressed.

Most of the transgender community, she said feel uncomfortable in discussing their status with healthcare providers.

The transgender community due to discrimination of their basic right to access to healthcare facilities are practising self-treatment and self-prescription in the community, Mazari added.

Earlier, Minister for National Health Services Kiani visited different sections of the hospital along with the minister for human rights and appreciated hospital administration's efforts for improving health facilities for patients.
COMMENTS
Comments are moderated and generally will be posted if they are on-topic and not abusive.
For more information, please see our Comments FAQ