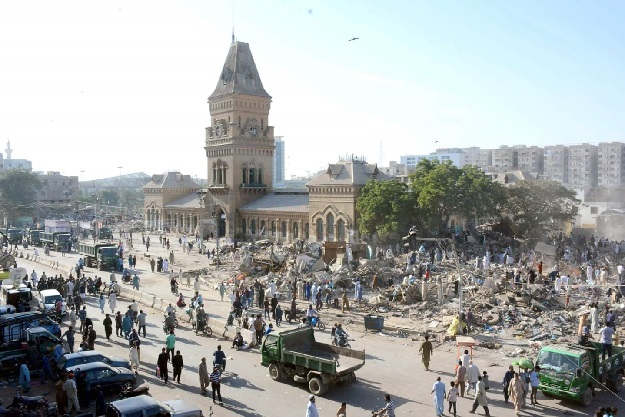 ---
KARACHI: More than 1,700 shops termed as illegal encroachments have been razed to the ground on the directives of the Supreme Court in order to restore Saddar to its colonial-era glory.

Those worst affected by this campaign are the shopkeepers and hawkers who have been forcefully evicted without any alternative plan and ordered to discontinue their occupation from the vicinity of the old heritage buildings.

Little are people aware of the economic genocide that has fallen upon the 10,000 families who have lost their livelihoods in a matter of two to three days. Over 4,000 hawkers have also been removed. Businesses that had been long established by their forefathers in this bustling part of the metropolis have been disrupted.

Baani*, one of more than 35 scheduled caste Hindu women who is now prevented from selling dry fruits in front of the Main Empress Market, talked to The Express Tribune about the difficulties she has faced since her eviction.

"I've been selling dry fruits for the past 15 years. Before me, my mother and sister used to sell at this same place as street vendors for the last 40 years," said Bani, adding that they were evicted without any notice.




"Now we just sit on the road across the main street but even that is not being tolerated. We are harassed on a daily basis by police officers from Saddar and Preedy police stations. It has been weeks now, our livelihoods have been destroyed, how will we even continue to feed our families?" she laments.

"We request the government to restore our livelihoods; we just sell dry fruits on the streets. We don't occupy public property; we've no other source of livelihood to feed our children. We are working women supporting our families, where will we go now?" said Baani, pleading to the authorities.

Chanda*, another Hindu woman forced to uproot her work from Empress Market, also addressed the abuse and humiliation directed towards them by the police.

Over 1,700 shops demolished in Karachi

"They seize our [temporary] stall on a daily basis. Police mobiles show up four to five times a day and threaten us with arrests," she said. "We live on rent near the Light House. Our husbands work on daily wages and earn hardly Rs400 on the ferry. We just request the government to think about us too," she added.

On November 23, many Hindu women street vendors protested in front of the Karachi Press Club against the forcible evictions and an anti-encroachment drive that has forced them out of their decades-old trade of selling dried fruits outside Empress Market.




Inside Empress Market, Abdul Rashid* sat beside the last remaining shops selling dried fruits, fresh vegetables and masalas (spices). Rashid belongs to the Abbasi community of business traders that have been associated with Empress Market for the past 50 years. Originally from Abbottabad, he came to Karachi at the age of 15 and now in his 60's, recalled how tirelessly he had built the thriving business which has now been razed to the ground.

"There used to be no one here, only stray dogs when my father was allocated some shops back in 1949. Only due to our painstaking efforts and hard work were we able to lay the foundations of these markets that lay barren today. We were able to win our customers due to our hospitality and they kept coming back to us," he recalled.

Anti-encroachment drive slows down

The Abbasi community had 70 shops at Main Empress Market. Nearly all of them have now been demolished. Rashid, sitting near the rumble of his thrown down shops at Empress Market quotes an Urdu Sehr (poetry), "Basti bassana khel nahi, bastay bastay basti hai" (It's not child's play to lay the foundations of a settlement, slow and steady they settle).

"Nobody will listen to us now. Bureaucrats just sign orders without realising the human cost. We had legal allotments of our shops and we paid rent to Karachi Metropolitan Corporation KMC [3,000 to 5,000] every month. We paid our electricity bills, trade licenses and other fees to KMC. Everything here was done lawfully, but despite that our shops were razed to the ground without a notice," said Rashid.




According to him, the federal government had promised the creation of five million new housing units but it is not even able to tolerate 1,700 shops. Instead, they were demolished, leaving millions unemployed.

"Karachi's Mayor Wasim Akhtar has given us false promises of providing us alternate shops at the Shahab Uddin market within the next 10 months but as a businessman, I am suffering damage worth at least Rs1m as my dry fruit rot at the godown. Who will pay for that?" he questioned.

KMC Anti-encroachment Director Bashir Ahmed Siddiqi, while speaking to The Express Tribune, dismissed the claims of injustices against the shop owners and hawkers in of Empress Market. According to him, "The Mayor of Karachi had ordered alternate shops to be allotted to registered shop owners at Shahabuddin market and Parking Plaza in Saddar."

Operation clean-up: To clear Saddar, KMC will demolish its own markets

"These shop owners were paying only Rs300 to 400 rent to KMC per month for shops that had a market value of around Rs 50,000. It's absolutely wrong to say that notices were not issued," he said. "We were able to issue notices to these tenants well over a month in advance and the deputy police commissioner, assistant police commissioner and officials from the cantonment board were all there assisting the shopkeepers in removing their merchandise before the shops were demolished," he added.




In a statement issued on November 24, the Human Rights Commission of Pakistan (HRCP) expressed its grave concerns regarding the human impact of the anti-encroachment drive underway in Saddar. "Protecting people's fundamental right to a livelihood must always take priority in urban planning. The sheer scale at which shopkeepers and hawkers have been evicted from Saddar - putting thousands of low-income families at risk of almost immediate poverty - should be a cause of serious concern among planning and development policymakers," said the statement.

Urging the city's policymakers to implement a fairer compensation and a practical resettlement plan, HRCP insisted that the affected families should not simply be dehumanised as mere resettlement statistics but as actual people whose individual needs much be documented and addressed. It called for the state to implement "a far more equitable approach to urban planning - one that prioritises the economic, social and cultural needs of the poor over any city's potentially divisive gentrification".

Empress Market: Where East meets West

According to the HRCP the supposed notices and offers of compensation which came reportedly after the eviction, "constitute the bare minimum of what the state is responsible for in this case, as these measures do not take into account the fact that small businesses take time to build up, especially in periods of severe economic uncertainty."

"Moreover, the city's cultural right to preserve its heritage should not be so narrowly defined as to exclude Karachi's poor and vulnerable, for whom Saddar has been the essence of an affordable and spontaneous cultural heritage for over 50 years," said the statement.




Others too have expressed concerns, lawyer and human rights activist, Jibran Nasir pointed out to flaws that exist in the anti-encroachment campaign. "As per Section 8(2) of The Sindh Public Property (Removal of Encroachment) Act 2010, anyone abetting in encroachments including public servants are to be punished with imprisonment of up to five years or fined with an amount of five lakh rupees or both," he said while speaking to The Express Tribune. "In such a case, is the government and our legal apparatus going to punish the KMC employees who have been collecting rents from tenants illegally?" he questioned.

Empress Market's 'half-dead' pets

Dr Noman Ahmed, the Dean of Architecture & Management Sciences at NED University of Engineering and Technology, urged the authorities to set up a rehabilitation plan for those displaced by the evictions with their livelihoods destroyed. "Whenever an operation of such nature is planned there must be a rehabilitation plan in place so that people could have moved out voluntarily," said Ahmed.

"Much of the damage has been caused because shopkeepers were not allowed to move out their merchandise when their shops were being bulldozed and the entire process of demolition was done in a ruthless manner," he added.




Similarly Dr Nausheen H Anwar, a professor at the Institute of Business Administration (IBA) and the director of Karachi Urban Lab, emphasises on the violation of human rights caused by the drive as it spreads from Saddar to other parts of the city, and eviction of nearly 10,000 residents of low-income settlements along the Karachi Circular Railway route begins. "These evictions are a violation of human rights; they are a way to force the majority of city's inhabitants into indebtedness and make them expendable. All this is part of the state's plan to eviscerate Karachi's basic urban economy, a fact that makes a mockery of the new government's plan for a Naya Pakistan," said Anwar.

"The very people who make this city viable, who make it thrive on a daily basis, they are the ones being eviscerated and with them, Karachi's complex urban fabric is being ruptured to serve the interests of those who are in power," she added.

*Names of some individuals have been changed to protect their identity
COMMENTS (3)
Comments are moderated and generally will be posted if they are on-topic and not abusive.
For more information, please see our Comments FAQ