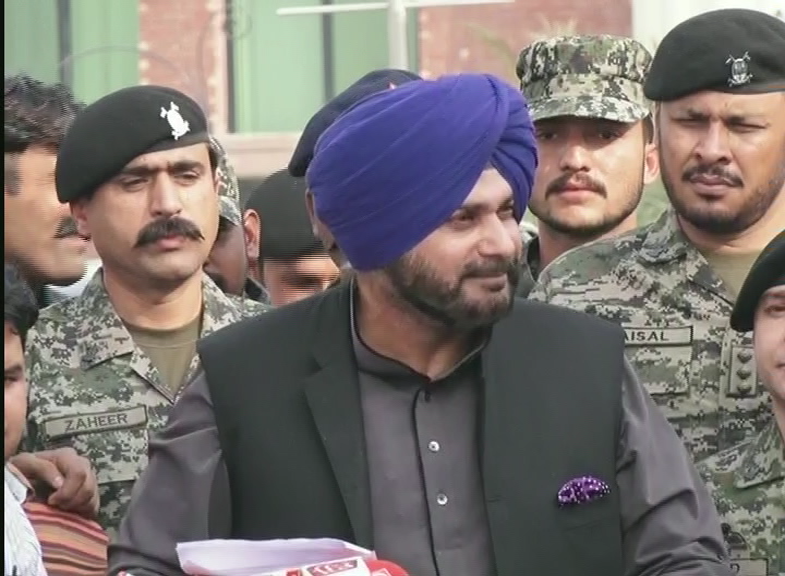 ---
[fbvideo link="https://www.facebook.com/etribune/videos/364224574312758/"]

Indian cricketer-turned-politician Navjot Singh Sidhu arrived in Pakistan on Tuesday to attend the groundbreaking ceremony of Kartarpur border corridor.

The Kartarpur corridor aims to ease travel for Indian pilgrims visiting one of the holiest sites of the Sikh faith in Pakistan. Gurdwara Darbar Sahib – located in the Kartarpur area of Narowal district of Punjab – is the final resting place of the founder of Sikhism Guru Nanak Devji, and one of the holiest shrines of the Sikh community.

Sidhu crossed the international border at Wagah and was received by Pakistani authorities. Speaking to the media at Wagah Border, Sidhu hailed the Katarpur Corridor. He credited Prime Minister Imran Khan for the initiative.

I congratulate Pakistan and India for providing the facility to Sikhs after 73 years, he said.

"I want to avoid conflicts – religion should not been seen through the lens of politics. There is no rule in the world that prevents religious devotees to visit places of worship."

Reflecting on the criticism he received during his last visit for PM Imran's oath-taking ceremony, Sidhu said he had forgiven those condemned him. "I have no worth – I only convey what Baba Nanak and Baba Fareed preached. The message is of love and happiness."

The former cricketer said the Katarpur corridor opened infinite possibilities between the two neighbours including resumption of cricket.

Prime Minister Imran Khan will perform the groundbreaking on November 28. The move to open the corridor, analysts say, might thaw the frosty relationship between the two neighbours.

Earlier, India's vice president laid the foundation stone of the Kartarpur corridor on the Indian side. Islamabad had hailed the announcement by India to open the corridor as 'victory for peace'.

The Indian move came nearly three months after Pakistan's army chief General Qamar Javed Bajwa had offered to open the route to facilitate Sikh pilgrims. The COAS told Sidhu at the inauguration of Prime Minister Imran on August 18 that Pakistan was ready to open the route to Gurdwara Darbar Sahib at Kartarpur for Guru Nanak's 550th birth anniversary.
COMMENTS (2)
Comments are moderated and generally will be posted if they are on-topic and not abusive.
For more information, please see our Comments FAQ