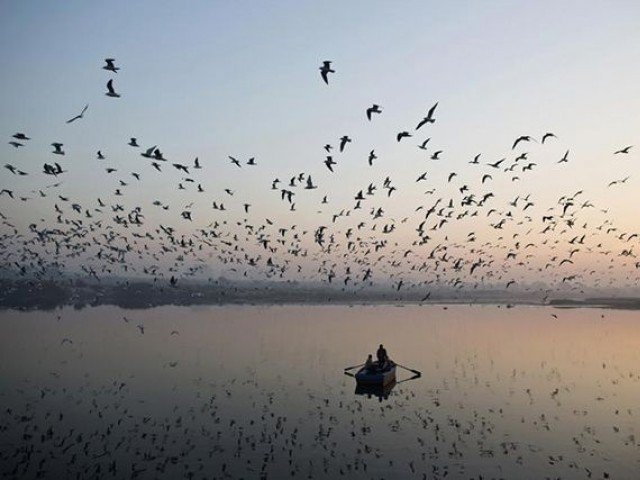 ---
KARACHI: Migratory birds from around the world have started coming to Sea View, Hawke's Bay, Mubarak Village and other coastal areas. The birds travel from the world's coldest areas, including Siberia, to Pakistan's wetlands and usually stay for almost three months. As the night unfolds and the first ray of sun shines on the city, thousands of birds are seen on the shores as far as the eye can see.

Earth's wild animal population plummets 60 per cent in 44 years: WWF

These birds migrate to Pakistan from Siberia and other cold countries in search of food as their favourite food; fish and seaweed freeze in the cold weather. Starting their journey from Kazakhstan, these migratory birds enter Pakistan. Using the power of their wings and sharp vision, flying against the wind direction, the birds come to find their favourite prey: fish.

Flying across one country to another, these birds have their unique way to travel in a flock. They can be seen taking flights in the sky forming different patterns.

To enter Pakistan, they choose different routes. These birds include ducks, pelicans and cranes. The birds start arriving to Pakistan in November while their number increases during the month of December. They stay in Pakistan till the end of February, completing their three months' stopover in the country.

Kamal takes notice of illegal hunting

These birds settle in all coastal sites of the city and areas of interior Sindh, including Keenjhar Lake, Haleji Lake, whereas the shores of Badin and Nagarparkar become their living places. According to research by the World Wide Fund for Nature, the non-profit organisation working for the protection of these birds, the climate change and administrative negligence has led to a decrease in the number of migratory birds seen in Pakistan.
COMMENTS
Comments are moderated and generally will be posted if they are on-topic and not abusive.
For more information, please see our Comments FAQ