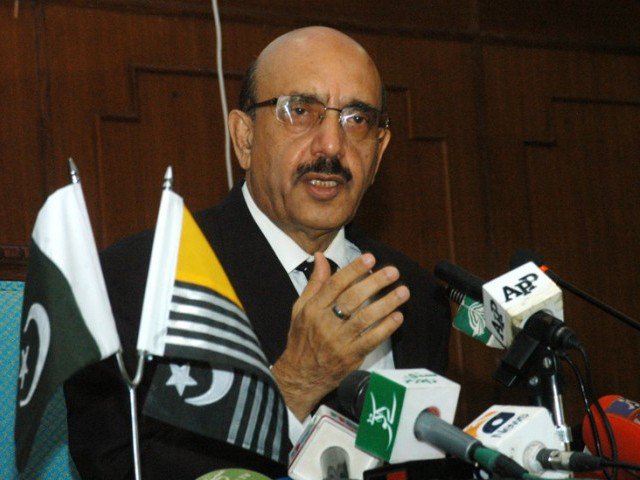 ---
PALANDARI: Glowing tributes were paid to renowned social reformer, Col Khan Muhammad Khan, popularly known as Khan Sahib for his multifaceted services to the people of Jammu and Kashmir on Monday.

The legendary freedom fighter and icon of valour and optimism was remembered at his 57th death anniversary memorial organised at his native Palandari town.

A multitude of people spoke for the late reformer, including Azad Jammu and Kashmir President Sardar Masood Khan, AJK Minister for Health Dr Najib Naqi, Member of Azad Jammu and Kashmir Council Sardar Abdul Khaliq Wasi, Col Aurangzeb, Advocate Sardar Muhammad Hafiz Khan, President District Bar Association Palandari Sardar Khaliq-ur-Rehman, Tahmina Sadiq and Haji Mansha Khan.

Speaking on the occasion, AJK President who was chief guest at the event, said Khan Sahib was symbol of courage, dedication and selflessness, who fought both politically and militarily for the rights of his people.

President Masood stressed the need for following footsteps of leaders like Col Khan for early success of Kashmir Liberation Movement and establishment of an enlightened welfare society.

Kashmir's new song is hauntingly beautiful

"Khan Sahib of Poonch was not only a legendary freedom fighter of Kashmir's liberation struggle but was also a great politician, a social reformer and an ardent campaigner for education, especially education of women," President Masood said.

He said that services rendered to the nation by Col Khan in Kashmir's liberation struggle, education of the people of his area and reformation of society by eradicating social evils would remain a matter of great pride and inspiration to the present and coming generations.

The president said that Col Khan dedicated his entire life and resources for the betterment of the people of Kashmir in general and for the people of Poonch in particular.

He added that, Khan Sahib was an educationist par excellence, a military strategist, a freedom fighter, an accomplished politician and a polished law maker.

"His role to get the people of Poonch liberated from the oppressive rule of the Mahraja of Kashmir would never be overlooked or forgotten in the history of Kashmir," Masood Khan said.

Highlighting the political contribution of Col Khan, President Masood said he had served as member of Kashmir Legislative Assembly from 1934 to 1946 and relentlessly fought for the political, social and economic rights of his constituents. He also founded the Sudhan Educational Conference to motivate his people to acquire both religious and modern education.

Terming Khan Sahib as exceptionally brave, intelligent and visionary, President Khan said it was because of people like him that today we live in an environment of independence and freedom.

India's insensitivity causing bloodshed, says Geelani

Dubbing him as the Sir Syed Ahmed Khan of Kashmir and true follower of Dr Allama Muhammad Iqbal, President Masood urged the youth of Azad Kashmir to familiarise themselves with the various aspects of the life of Khan Sahib and play their role in the ongoing Kashmir Liberation struggle for progress and prosperity of Azad Kashmir.

The president suggested that a memorial with a public library should be built to commemorate the legendary freedom fighter and give him honour and respect.

Speaking on the occasion, AJK Minister for health and the grandson of the late reformer, Dr Najib Naqi said that Khan Sahib was a multifaceted personality taking on multiple roles such as a politician, law maker, educationist, social reformer and military commander at the same time.

He was the first of his time who advocated for women education and also involved women in decision making process for matters related to the community. He also proposed to setup separate educational institutions for women and floated the idea of "women empowerment" by equipping them with education almost eighty years ago.

Other speakers also paid rich tributes to Baba e Poonch for his estimable services he rendered for the general welfare of the Kashmiri Muslims.

Earlier President Masood visited the mausoleum of Col Khan and laid floral wreath on his grave before offering Fateha for the departed soul.