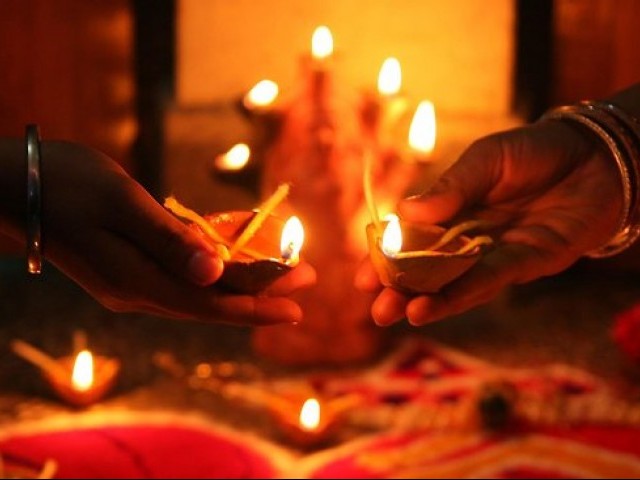 ---
LAHORE:

The Hindu community from across the country will celebrate Diwali – the festival of lights – on November 7.

Evacuee Trust Property Board (ETPB) Deputy Secretary General Syed Faraz Abbas told Express News that the trust released funds worth millions of rupee to make arrangements for the celebrations at 12 big temples across the country.

Diwali or Deepavali is a Sanskrit word meaning 'rows of lighted lamps'. It is one of the most famous festivals celebrated by the Hindu community across the world. People light candles and mud lamps (diya) just to symbolise the triumph of good over evil. During the festival, the Hindus offer pooja, prepare and distribute sweetmeats, exchange gifts, decorate homes and wear new clothes.

In India, Diwali will be celebrated on November 8. However, in Pakistan, the festivity will take place a day before. The community celebrates its festivals according to the Bikrami Calendar, under the administration of the ETPB in Pakistan.

In Lahore, the main Diwali celebrations will be organised at the Krishna Mandir. Hundreds of citizens belonging to the Hindu, Christian and Muslim faiths will take part in the festivities as the aim of the event is to show that harmony existed among people from various religions.

A worshiper, Kashi Ram, who regularly goes to the Krishna Mandir to offer prayers, said he and his wife are busy with the Diwali preparations and are excited to celebrate the festival.

Pakistan Hindu Council leader Dr Manohar Chand said he is satisfied with the arrangements being made by the ETPB to celebrate Diwali. However, he said there is a need to make better arrangements in some small temples. "We have invited people from all religions take part in the celebrations."
COMMENTS
Comments are moderated and generally will be posted if they are on-topic and not abusive.
For more information, please see our Comments FAQ