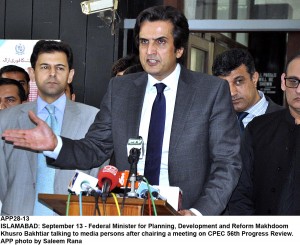 ---
ISLAMABAD: Pakistan would not ask for rescheduling of the nearly $3 billion maturing Chinese loans during Prime Minister Imran Khan's visit who will reassure Beijing about the government's commitment to the China-Pakistan Economic Corridor (CPEC) after initial jolts given by his cabinet members.

The prime minister will also look for a slice of the $12.5-trillion Chinese economy aimed at putting Pakistan's economy on a strong footing by increasing investment and exports.

"The rescheduling of Chinese short-term loans will not be discussed during the visit of the prime minister," announced Planning Minister Khusro Bakhtiar on Thursday.

Bakhtiar addressed a press conference just hours before the premier's departure to China, outlining key objectives of the trip. Information Minister Fawad Chaudhry was also present at the press conference.

"Prime minister's first visit to China will focus on Pakistan's needs and priorities instead of expectations," said Bakhtiar. He said Pakistan may get a grant and financial support for balance of payments but details would be shared at the end of the prime minister's visit.

Pakistan will return loans of $12.4 billion in this fiscal year including $5.6 billion in short-term loans. Over half of the $5.6 billion has to be returned to China. It includes $2.5 billion worth of deposits Beijing has made with the State Bank of Pakistan to cushion the foreign exchange reserves.

Although Saudi Arabia has announced an aid of $3 billion for Pakistan, money has not yet been transferred to the SBP's coffers. Resultantly, as of October 26, the foreign currency reserves held by the SBP slid to $7.7 billion.

"We are very hopeful of getting some funds and maybe some grant in aid from China," said Minister of State for Revenue Hammad Azhar in an interview to DW on Thursday.

He said aid from friendly countries was very crucial, otherwise, Pakistan would not have breathing space for undertaking structural reforms.

The revenue minister said whether Pakistan would go to the International Monetary Fund (IMF) or not was entirely dependent on the kind of packages and aid Islamabad received from friendly countries.

The planning minister said the government had set the direction and priorities of CPEC and now wanted to enhance its scope.

After coming to power in August, the Pakistan Tehreek-e-Insaf (PTI) government had given mixed signals on CPEC. The PM adviser on commerce and industry had suggested halting CPEC implementation for at least one year.

Other cabinet members had also announced that the government would undertake a holistic review of CPEC, which gave rise to suspicions that the PTI government may slow down its implementation.

However, the prime minister's visit will give an assurance to Beijing that the government remains committed to the strategic Belt and Road Initiative of the Chinese president.

Three main anchors of the prime minister's visit would be cooperation in human development, poverty alleviation and economic needs, said Bakhtiar. The minister said the visit's focus would be on getting market and trade access and socio-economic development of Pakistan.

The planning minister said Pakistan and China would sign a comprehensive agriculture framework agreement under CPEC. It is aimed at bringing investment in the neglected agriculture sector and exporting surplus produce to feed the growing Chinese population.

The cooperation in agriculture and tourism sectors was part of the original CPEC implementation plan.

Pakistan's agriculture sector employs 45% of the manpower, contributes about 24% to the gross domestic product, provides livelihood for 64% of the rural population and contributes 20% to total exports.

The planning minister said the size of Chinese economy was $12.5 trillion and its annual trade with the rest of the world was $4 trillion. If Pakistan could get even 1% share in Chinese imports, Pakistan's exports to China would increase to $18 billion, he said.

Bakhtiar said that $400 billion worth sunset industry, mainly labour intensive and light engineering, is relocating to other countries. If Pakistan could get 10% of it, this could increase foreign direct investment by $40 billion. Similarly, by setting up import-substitution industries with the help of China, Pakistan can lower its import bill from China by $5 billion in the short-term.

However, a key barrier to relocation of Chinese industries to Pakistan is lack of consensus on an incentive package between the federal and provincial governments. Bakhtiar said that the last government ignored this critical area which is now on the radar of the new government.

The planning minister said that Pakistan can gain a lot by strengthening its negotiations capacity and active participation of the private sector.

Published in The Express Tribune, November 2nd, 2018.

Like Business on Facebook, follow @TribuneBiz on Twitter to stay informed and join in the conversation.