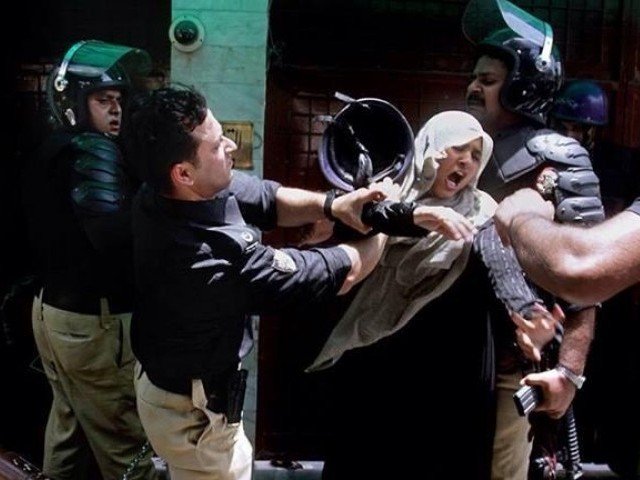 ---
LAHORE: The transfer orders for six senior police officials involved in the Model Town carnage were issued on Monday by the provincial police chief.

The officers were instructed to report to their respective headquarters with immediate effect.

These officers transferred are SSP RIB Faisalabad Region, Muhammad Maroof Masood Safdar, SSP Investigation Gujranwala, Muhammad Tariq Aziz, ASP Kasur, Syed Abdul Raheem Sherazi, Commandant Lahore Ring Road Police, Imran Karamat, ASP Madina Town, Faisalabad, Aftab Ahmad, and Principle Police Training Farooqabad, Muhammad Nadeem.

Earlier in October, the provincial government removed 116 police officials accused of being involved in the Model Town case.

116 police officials 'responsible' for Model Town carnage removed

A deputy superintendent, inspectors and other officers were among those removed. The police personnel were instructed to report to their respective headquarters.

Earlier, four superintendents were also removed from field posting. However despite PM Imran's orders, former Inspector General (IG) Punjab Muhammad Tahir failed to remove the police officials involved in the carnage.

Former Punjab IGP Mushtaq Sukhera, 115 others indicted in Model Town case

The violation was one of the main reasons for former the IG's removal.

Earlier this month, an anti-terrorism court (ATC) in Lahore framed charges against Punjab former IGP Mushtaq Sukhera on a private complaint filed by the Pakistan Awami Tehreek (PAT) in connection with the IGP's alleged role in June 2014 Model Town massacre.

The complaint also sought a case against other police officials as well as top leaders of the Pakistan Muslim League-Nawaz (PMLN) including former prime minister Nawaz Sharif and Punjab former chief minister Shehbaz Sharif as well as three bureaucrats for the police action in which 14 PAT workers were killed.

The ATC had earlier framed charges against 114 accused persons. At least 85 also got injured in the clashes that erupted between police and the PAT workers after the former started removing barriers outside the PAT secretariat.
COMMENTS
Comments are moderated and generally will be posted if they are on-topic and not abusive.
For more information, please see our Comments FAQ