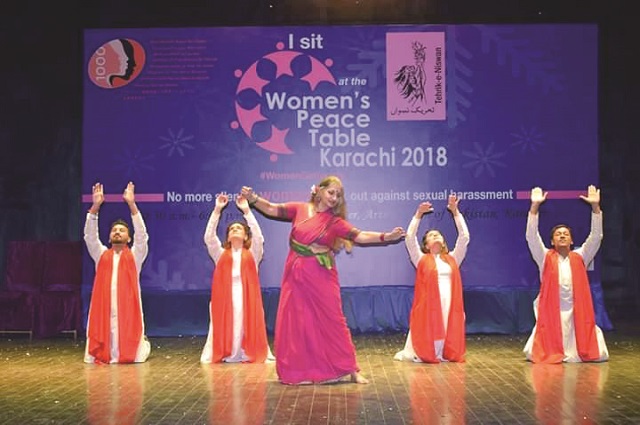 ---
KARACHI: The 4th Women's Peace Table conference was held at the Arts Council Pakistan, Karachi, on Saturday and the issue under discussion was sexual harassment. The founder of Tehrik-e-Niswan and event host, Sheema Kirmani, commenced the conference by speaking of movements against sexual harassment around the world.

Panel discussions, interactive sessions, theatrical performances, and survivor testimonials were all centred on 'breaking the silence' on sexual harassment. As journalist Nazish Brohi put it, "Sexual harassment is a collective issue, it takes place due to the collective mindset of a society which encourages and defends the act but the laws made to curb such acts in society are individualistic."

'The sexual harassment act and workplaces'

The first panel, on harassment at the workplace, was moderated by a law student, Shazel. Lawyer and teacher, Abira Ashfaq, journalist Farieha Aziz and legal associate, Sana Farrukh, were part of the panel.

"Majority of women in Pakistan work in the agriculture sector, as home-based workers, or are employed in informal work. In their particular working conditions, there is no room to establish inquiry committees," said Ashfaq, speaking on the shortcomings of The Protection against Harassment of Women at Workplace Act, 2010.

"First, the victim must register her complaint with the ombudsperson, meet them in order to proceed against the alleged harasser and then a show-cause notice is issued against the alleged harassers," said Farrukh, elaborating on the procedure.




Aziz stressed on the fact that while the laws in place give you the ability to prosecute, they do no solve the issue itself as there are no systems in place for support or legal aid for victims of sexual abuse and violence. "There is a need to facilitate such places where victims of abuse can be protected and the state must take the lead," she said.

During the discussion, journalist Zubeida Mustafa also highlighted the need to combat human trafficking in Pakistan which impacts thousands of minor girls, who are abducted and forced into prostitution against their will.

'Sexual harassment at educational institutions'

This panel featured Karachi University Professor Dr Navin Haider, Dr Arfana Mallah from Sindh University Teachers Association, and educationist Aimen Bucha, and was moderated by Sadaf Masood.

Defamation campaigns against women, sleazy behaviour and hostile environments prevail at a massive scale within universities, said Dr Mallah.

Dr Haider said that the mishandling of sexual harassment cases shows that we as a nation have a long way to go before we can fight this menace. "Higher Education Commission can play an effective role by not issuing Quality Enhancement Certificates to universities where an active sexual harassment committee is not set up in the campus, but it does not do so," she added.




Highlighting the case of private universities in this regard, Aimen Bucha said that the case is no different at such institutions. Criticising the state, she said it is complicit in harassment because it lacks the willingness to implement harassment laws.

"Moral policing and body-shaming are so rife at private universities that they can be termed hubs of gendered violence," she added.

Final year student at Shaheed Benazirabad University in Nawabshah, Farzana Jamali, shared her experience as a victim of sexual harassment, who is seeking justice. "Fake FIRs were registered against my father who was also threatened with anti-terrorism laws when I went public with my harassment case against my university's Vice-Chancellor Arshad Saleem Arain," she said.

SZABIST students, faculty screen videos to raise youth awareness

"My family was in intense trauma and I was almost suicidal. I was told to back off from the harassment complaint I filed but I didn't because I stood there for other women," she added.

'Entertainment industry and #metoo campaign'

The panel featured veteran actress Samina Ahmed, actress Saba Hameed, theatre artist Tubbo Khan and Angeline Malik. It was moderated by fashion designer, Mohsin Sayeed.

"The widespread perception of women in the entertainment industry terms them, second-class citizens. It was and always has been difficult for women to work in Pakistan's media industry," said Ahmed, sharing her experience of working in the entertainment industry.




Meanwhile, Khan narrated an incident where she experienced sexual harassment. According to her, 12 years ago she was auditioned for a workshop at the Pakistan National Council of Arts (PNCA), in Islamabad, and was approached by a senior PTV producer, whom she initially refrained from naming publicly.

She, later on, went to name her alleged harasser, who acted with her in an 'inappropriate' way and would ask her for 'inappropriate' favours whenever he saw her at PNCA, forcing her to leave the place for her safety.

'Dhadak' fails to maintain rhythm in Pakistan

Hameed gave the example of Meesha Shafi who went public with her harassment case against Ali Zafar. "Patriarchy is a mindset, and this isn't a fight against men, this is a fight against decades of indoctrination and conditioning of women to stay silent whenever they face violence or harassment in our society," said Hameed.

"None of Meesha's friends supported her despite the fact that eight other women had also come forward with allegations of abuse by Meesha's harasser [Ali Zafar]," she added.

"If only women occupy places of power and decision making, such cases of harassment won't happen," said Ahmed.

"I request people to not doubt the victims of abuse, no woman in her right mind would accuse someone if she really does not have the reason to do so. Women should not be told to stay silent if their rights are being violated," she added.

'Izzat nahin Insan hai aurat'

This panel discussed the crisis of minorities with sexual harassment complaints. It was chaired by minorities' rights activist, Pastor Ghazala, Seema Maheshwari, Nazish Brohi and journalist Hamna Zubair and moderated by journalist, Fawad Hasan.




Whether Christian or Hindu, when minority women come forward with complaints of sexual harassment not only her but the whole family bears the brunt of it, because religion comes into the equation and they can be easily accused of blasphemy, said Pastor Ghazala, speaking on the plight of women belonging to minority communities.

"Owning our identity as women belonging to another faith here in Pakistan is an uphill task because intolerance is embedded deep within society and is also reflected in the Constitution as it does not cover minorities," added Maheshwari.

"There is a need within organisations to step up individually and publish stories against sexual harassment," said Zubair. "Women in decision-making roles need to bring these cases forward," she added.



Published in The Express Tribune, October 29th, 2018.
COMMENTS
Comments are moderated and generally will be posted if they are on-topic and not abusive.
For more information, please see our Comments FAQ