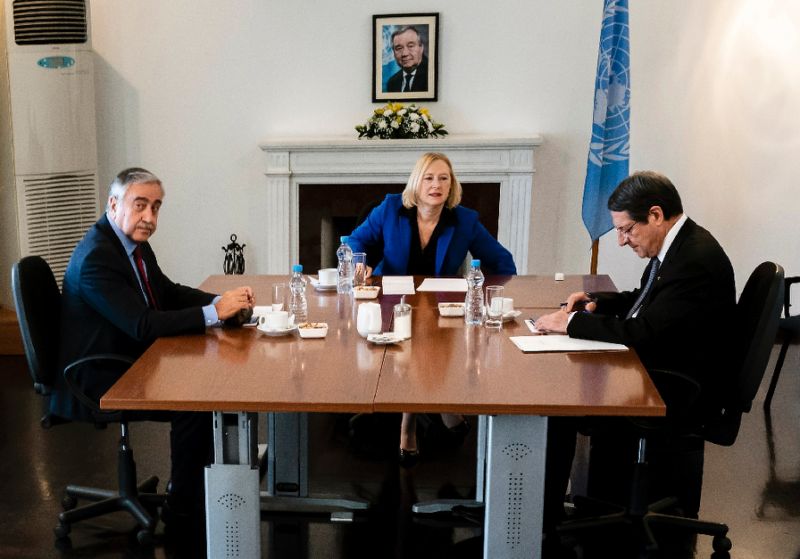 ---
NICOSIA: Rival Cypriot leaders agreed Friday to open the first new crossing points in eight years across the island's divide in a move to improve the climate of the deadlocked talks process, the UN said.


It was the first formal meeting between the two leaders since a UN-backed peace conference in Switzerland also involving the main outside powers collapsed in acrimony in July last year.




"The leaders are pleased to announce that on November 12, 2018, crossing points at Lefka/Aplici (in the northwest) and Dherynia/Derinya (in the east) will be open," a UN statement said after the leaders meeting.




Greek and Turkish Cypriot leaders had agreed in 2015 that the two additional crossings through the UN-patrolled buffer zone that the divides the island should be made ready for use.




Erdogan raises concerns over Cyprus operations




The opening of more crossings is seen as an essential element of trust building between the two communities that lived in virtual isolation from each other until Turkish Cypriot authorities cleared the way for the free movement of people in 2003.




Currently, there are seven official crossing points between the breakaway Turkish Cypriot north of the island and the government-controlled south, but the last crossing to open was in 2010.




President Nicos Anastasiades and Turkish Cypriot leader Mustafa Akinci met inside the UN-protected area in the divided capital Nicosia to try to move closer to resuming formal reunification talks.




UN moves to revive Cyprus talks




The UN statement said the leaders "had a frank exchange of views on the way forward. They confirmed their readiness to engage constructively with (UN envoy) Jane Holl Lute, who will be visiting the island on October 31."




UN chief Antonio Guterres has instructed Lute to gauge the "true extent" of convergence on key issues and the willingness of the sides to incorporate novel proposals as part of an overall solution.




He reported to the UN Security Council last week that a deal to end the islands more than four-decade-long division was "still alive" despite the collapse of last year's peace conference in Switzerland.




Cyprus has been divided since 1974 when Turkish troops invaded its northern third in response to a coup sponsored by the military junta then in power in Athens seeking to unite the island with Greece.