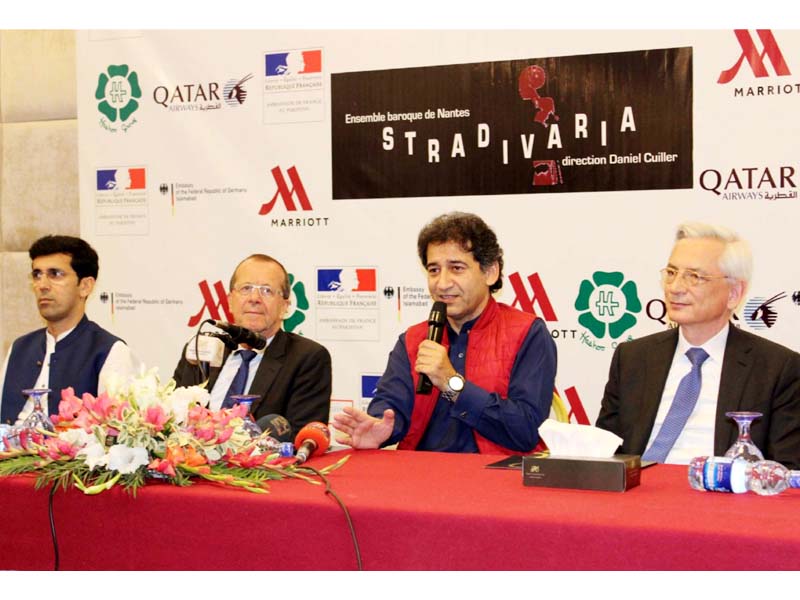 ---
PESHAWAR: For the first time in a very long time, classical French and German tunes were heard in Peshawar in an atmosphere free of terror.

It prompted the provincial tourism minister to claim that the province was finally free of terror.

A joint classical musical and cultural event, Stradivaria, was organised by the French and German embassies in Peshawar on Tuesday.

Senior Tourism Minister Muhammad Atif Khan said that war was not in anyone's interest and it must be avoided in any part of the world. He pointed to the example of Germany and France who had fought two world wars against each other but later both countries worked together for development.

German Weeks to start this month in Karachi

"World War-I was fought between Germany and France some 100 years ago but later, both countries repented and admitted their mistake. They joined hands for the development of science, technology education and took their countries to the zenith of development and prosperity," Atif said.

The tourism minister added that the war-ravaged countries in this region should learn from Europe and work for peace, progress and prosperity of the people.

"Boosting education and trade ties between the neighbouring countries is the need of the hour for a peaceful co-existence," the senior minister.

He added that the event would send a positive message to the world about Pakistan and help boost tourism here.

Moreover, he said that tourism was a key driver for socio-economic progress in the modern world and that the provincial government will work with France and Germany to benefit from their experiences to boost tourism in Khyber-Pakhtunkhwa (K-P).

Development prospects : CM Kamal meets German consul general

German Ambassador Martin Kobler said that they have developed a syllabus for educational institutions which outlines the history of the conflict and the destruction devastating wars caused and the bright future which can be achieved through education, trade, friendship and peace.

"Our people, particularly the young generation, know the hazards of wars and violence, therefore, they hate them from the core of their hearts," the visiting envoy said.

French Ambassador Marc Barety said that they were happy to see a peaceful and joyful environment in Peshawar and elsewhere in Pakistan and that Tuesday's musical show was a proof of lasting peace and tranquillity prevailing in every nook and corner of the province.

Published in The Express Tribune, October 24th, 2018.