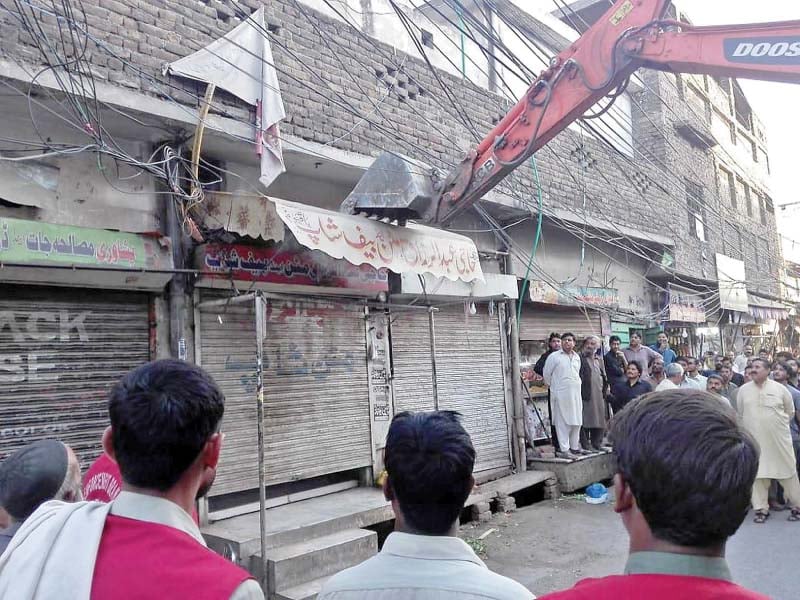 ---
RAWALPINDI: Officials of the Rawalpindi Development Authority (RDA) and Chaklala Cantonment Board (CCB) and Rawalpindi Cantonment Board (RCB) in the ongoing operation against encroachment demolished illegal structures with the help of heavy machinery in their respective areas.

CCB Executive Officer Ishaq Malik, RCB Executive Officer Ibtain Raza and RDA DG Rana Akber Hayat in their separate statements have made it clear that the anti-encroachment operation would be taken to its conclusion.

RDA in its operation against illegal and unauthorised land use has demolished fences, sheds and other encroachments on High Court Road.

Demolition In-Charge Fahad Ali Bhatti supervised the operation on site. RDA personnel from the demolition squad, land use and building control wing and estate management wing were deployed to clear the High Court Road of encroachment.

A contingent of Rawalpindi police was present to control any law and order situation and arrest people hindering official work.

In Saidpur, RDA personnel demolished walls of 14 houses, gates, fences and sheds to clear the road in Asghar Mall Scheme.

Moreover a building material shop on the main intersection of Asghar Mall Scheme was also demolished for being an unauthorised structure.

The demolition squad had brought excavators to tear down illegal structures which people had built by extending the boundaries of their houses on the road.

The encroachments were demolished in accordance of Punjab Development of Cities Act 1976 and RDA Building and Zoning Regulations 2007, the spokesman said.

RDA DG Rana Akbar Hayat has issued directions to take strict action against encroachments, illegal and unauthorised constructions and commercial activities, said an RDA spokesman.

Lal Kurti operation

Taking action on the directive of Lahore High Court (LHC) Rawalpindi bench Justice Ibadur Rehman Lodhi, Chaklala Cantonment Board (CCB) Monday demolished sheds ofmore than 300 shops in Lal Kurti area.

The operation was carried out under the supervision of CCB chief executive officer Malik Ishaq, Engineering and Land branches. Rawalpindi police, traffic police and other department concerned participated in the clean-up operation against illegal construction.

In the five-hour long operation, CCB teams demolished extended platforms in front of shops, sheds and shelters.

According to CCB officials, operations against encroachment will continue on the basis of non-scheduled daily basis as clear instructions has been given to the building control department that all the building officers should ensure the monitoring of the area.

On the other hand, cleanness drive has been started to keep the surrounding clean and in this regard a ceremony will be held on Tuesday aimed at cultivating a sense of responsibility among the masses for ensuring and promoting cleanliness

RCB demolition squads used heavy machinery to tear down illegal structures on Range Road and in the Chohar Harpal Singh area. Besides, the defaulters were warned against constructing encroachment again.

Published in The Express Tribune, October 23rd, 2018.
COMMENTS
Comments are moderated and generally will be posted if they are on-topic and not abusive.
For more information, please see our Comments FAQ