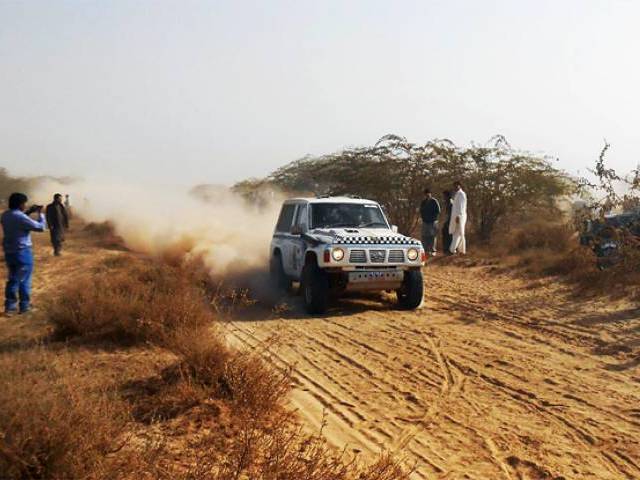 ---
BAHAWALPUR:

Once the crown jewel of motorsports in Pakistan, the Cholistan Desert Jeep Rally is now in danger of not being held due to the fact that the government has not allocated funds for the event.

Every year in February, the Punjab Tourism Development Corporation (TDCP) organises the rally which is one of the biggest motorsport events in the country. It was first held in 2005 and has since been a major attraction for tourists and motorsport enthusiasts alike.

The rally starts from Derawar Fort near Ahmedpur East, hosting 100 drivers and thousands of attendees each year. The event lasts for four days during which local artistes and artisans perform and exhibit their handicrafts.

Typically, TDCP allocates a budget of Rs14.5 million for the rally. However, no funds have been allocated for the 2019 rally that is only a few months away.

President of the 4x4 Club and a former winner of the rally Zain Mehmood Majeed states that the news came as a shock for him. "I expected Imran Khan's government to emphasise on promoting sports and tourism," he articulates.

He claims that the jeep rally is one of the most anticipated events of the year; car enthusiasts from all over Pakistan travel to Cholistan in order to participate in the rally, he maintains.

Majeed adds that the event also provides a platform for local artistes, who are able to showcase their talents on stage during the rally. This not only promotes the culture of the land but is also intrinsically linked with their livelihood, he explains.

Speaking to The Express Tribune, Former president of the Bahawalpur Chamber of Commerce Sheikh Abbas Raza says that the rally is not just a sporting event; it is a major source of income for the people of Cholistan.

"In the past couple of years, a lot of stores and rest houses have been built to accommodate the influx of tourists. The people of Cholistan mainly live off of the money they earn during the rally for the entire year," he stresses.

By not hosting the event, you are taking away the main source of income for the people of Cholistan, he expresses.

An official from TDCP while seeking anonymity says that they have not yet been given the budget for the rally. "We have written a letter in this regard to the authorities concerned but are still awaiting a response," the official says.