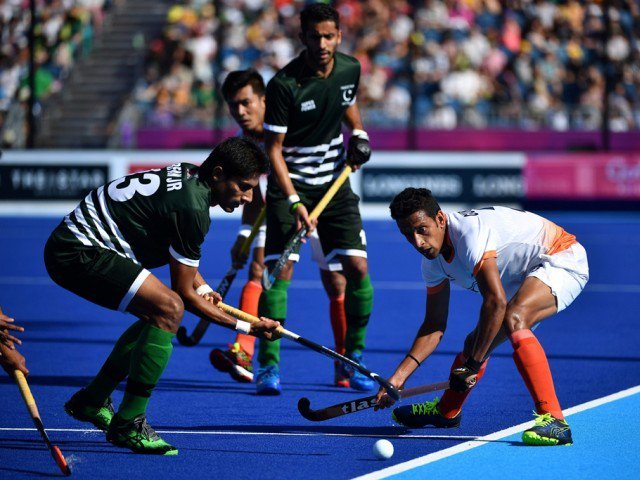 ---
KARACHI: Pakistan National hockey team with an aim to win the title, will be beginning their journey at the Asian Men's Hockey Champions Trophy on Friday. The team will play their first match against South Korea at Sultan Qaboos Sports Complex in Oman.

The hockey team who finished fourth in the recently concluded Asian Games will be coming up against India, Malaysia, South Korea, Japan, and hosts Oman in a round robin format. Pakistan team has faced all of the above teams barring South Korea. Team scored 45 goals in the pool matches and conceded only one but then lost the semi-final to Japan and third place match to India.

Japan won the Gold medal as Malaysia clinched the Silver medal. However, Pakistani  players who have been training under local coaches since their return from the Asian Games are optimistic they will win a medal in the upcoming tournament.

Pakistan hockey players submit visa applications for World Cup in India

Rizwan Senior who has been retained as the captain for this assignment told The Express Tribune that the conditions in Oman are in their favor. "We have been practicing in hot weather back in Pakistan and have built our stamina, which will help us in winning matches here," he said.

"In the last tournament we were doing well in the pool matches but were unlucky in the final stage. This time we have overcome all the mistakes and the flaws that we faced then. We are much more confident for this tournament and will give the other teams a tough time," he added.

He further said that the team is well synced and will be seen performing better in the field during matches. "We haven't played against South Korea for a while but we have seen their matches videos and have studied their strategies," he added.

Pakistan hockey head coach Oltmans resigns

The team has been training under coaches Rehan Butt and Muhammad Saqlain after former head coach Roelant Oltmans left the team following the debacle in Asian Games. Oltmans has now signed up as head coach of the Malaysian hockey team up to 2020 Tokyo Olympics.

Team manager Hasan Sardar who is traveling with the team is confident the boys will deliver better in this tournament. "The team is in well shape as they have minimized the margin of defeat in Commonwealth Games, Champions Trophy and the Asian Games," he said.

"Although the PHF is not getting funds from the government but still the squad is working hard and keen to win the medal. The team has improved during the tenure of Oltmans, so the coaches have been asked to carry forward his plan and ensure the team qualify for 2020 Olympics," he said.

He added that the team will be trying to win a medal in ongoing Asian Champions Trophy and then finish in top eight at the World Cup in December in order to qualify for the 2020 Olympics.