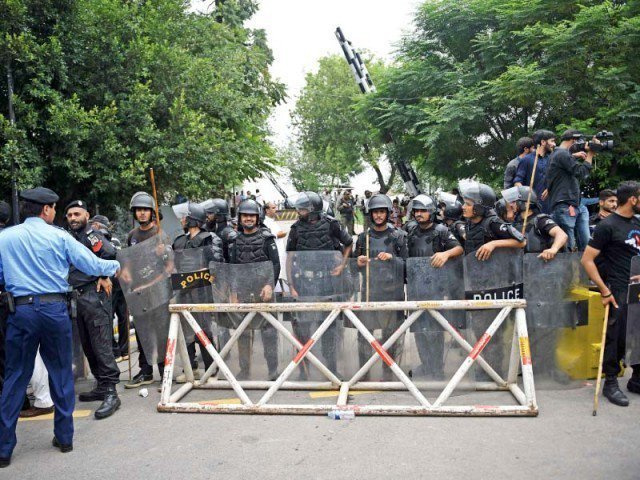 ---
ISLAMABAD: The Supreme Court on Tuesday gave four more weeks to the country's premier spy agency, Inter-Services Intelligence (ISI), to remove barricades from a portion of Khayaban-e-Suharwardi (Aabpara) outside its headquarters.

At on the onset of the hearing, a defence ministry representative requested the three-judge bench headed by Chief Justice of Pakistan Mian Saqib Nisar hearing in the matter to grant more time to clear the road.

"Time is required to transfer sensitive equipment from the headquarter," he informed the court while submitting the request.

To this the chief justice asked the counsel, "Why has the road not been cleared during the last eight weeks [despite court orders]?"

Top court suspends IHC order to remove barricades in front of security agency HQ

Justice Nisar then referred to a case in India where a statue of Mahatma Gandhi was removed from a road on the order of the Indian Supreme Court. "This is called [upholding] the sanctity [of court's order] and rule of law."

"Rule of law has to prevail under all circumstances," remarked the top judge, adding, "Orders have been issued to all departments to remove encroachments."

The bench, after hearing the argument of the defence counsel, granted four more weeks to clear the road.

In the last hearing conducted on July 6, Director General for Counter-Intelligence Maj Gen Faiz Hameed requested the court to grant six weeks to clear the road. However, the bench gave the agency eight weeks that ended on September 6.

Lt Gen Asim Munir named as new ISI chief

Earlier, the defence ministry, while submitting a written statement, stated that the ISI is the premier national security agency which has dedicated itself to protecting the country from enemies operating from outside as well as within the country.

"Upon deterioration of the security situation in Pakistan from 2008 onwards the ISI offices and personnel have been the prime target for enemies as well as terrorist forces," says the application.

It is further submitted that the ISI offices in Lahore, Peshawar, Sukkur, Swat and Multan were attacked, resulting in the loss of precious lives and damage to property due to the absence of proper security arrangements.

The application further stated that in view of multiple technical and operational details, foolproof security, planning will be required that will take approximately 10-12 weeks.

However, the bench on July 6 rejected the plea and directed the country's top spy agency to remove all barricades from the road within two months.