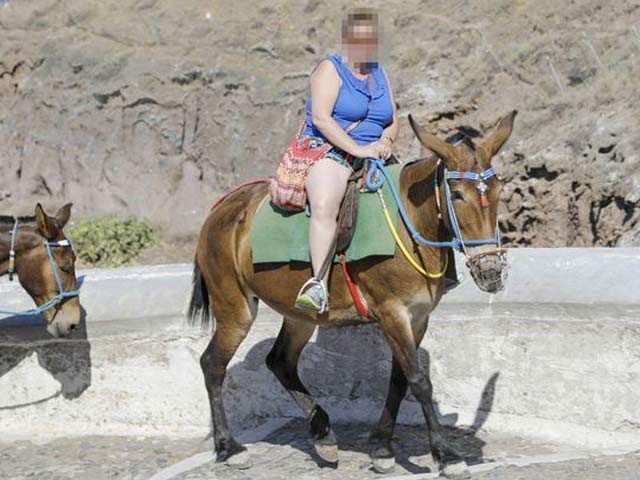 ---
Greece has imposed a ban on obese tourists riding donkeys amid animal rights' campaigners saying the animals were being left open with spinal injuries and open wounds,
Mail Online
reported.
Following pictures of donkeys climbing narrow steps of the Greek island of Santorini laden down by large holidaymakers making headlines the world over, lawmakers have vowed to do more to help the animals.
Greek authorities have published new rules regarding donkeys' well-being after receiving multiple complaints following recent media coverage.
It says that donkeys giving tourists rides in Santorini should not carry loads heavier than 100kg or one fifth of their weight.
French slaughterhouse workers on trial accused of cruelty
It emerged after animal activists on the island claimed with obesity on the rise, donkeys were being made to carry ever-heavier loads for long hours, seven days a week without rest, shelter, and water.
According to animal rights activists, this has left the animal with spinal injuries and open wounds from improper saddles.
"The owners of working equidae should ensure that the animals' level of health is high. There should also be disinfection materials in their living quarters and workstations," stated the government's bulletin.
The article originally appeared in Mail Online