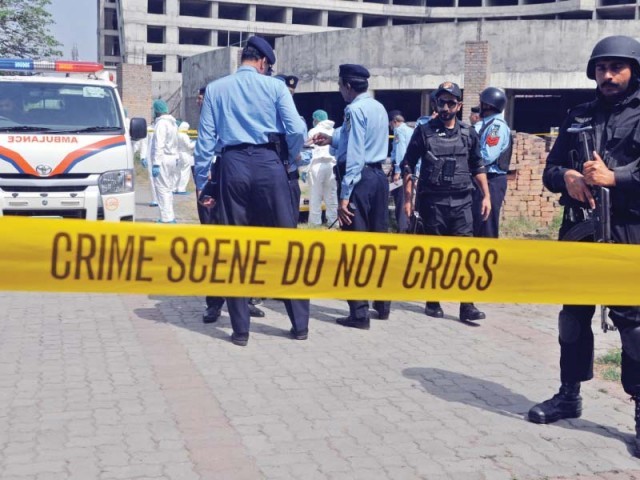 ---
Terrorist attacks saw a two-month dip in September with just 17 attacks recorded during the month which claimed 34 lives.

In all, 35 incidents of violence of different types took place in Pakistan in September which claimed the lives of 67 people and injured 32 others.

This was disclosed in a monthly terror report compiled by the Pakistan Institute of Peace Studies (PIPS), an independent, not-for-profit, non-governmental research and advocacy think-tank.

The report found that of 17 reported terror attacks, 10 took place in Khyber-Pakhtunkhwa (K-P) and seven in Balochistan while no terror attack was reported in any other region of the country.

Of the 34 people killed in these attacks, 18 were security and law enforcement personnel —nine army soldiers and nine levies officials. They accounted for the main targets in 59 per cent of all attacks across the country.

At least seven civilians were also killed along with nine militants in the retaliatory fire following some of the attacks.

Most of the reported casualties, around 71 per cent of all deaths and 81 per cent of all injuries, also resulted from these terror attacks. The Tehreek-e-Taliban Pakistan (TTP), Jamaatul Ahrar and local Taliban groups were reportedly involved in the 10 reported incidents of terror in K-P. These attacks claimed 22 lives while nine others were injured.

This was up from the six lives lost in K-P to terror attacks in August.

Uncertainty clouds timely polls after terror attacks

In restive Balochistan, Baloch nationalist insurgents stepped up attacks in September after a month of relative calm.

As many as 12 people lost their lives while as many were injured in the seven attacks reported from Balochistan. The attacks were allegedly perpetrated by different Baloch insurgent groups, including the Baloch Liberation Army (BLA) and the Baloch Republican Army (BRA).

Curiously, no religious militant or violent sectarian groups launched any attacks in Balochistan in September despite the fact that it was a month when Muharram was observed.

Terror attacks: Special units established to protect politicians

Posting a 125 per cent increase from the month before, a total of 11 cross-border attacks happened in September 2018, including nine from across the Indian and two from the Afghan border.

Six people were killed and another one was injured in these attacks.

The security agencies also conducted three anti-militant operations during the month and entered into a similar number of armed clashes or encounters with militants.

In all, 19 militants were killed in these operations and clashes while four army men and two Frontier Constabulary men had also lost their lives. 

Published in The Express Tribune, October 11th, 2018.
COMMENTS
Comments are moderated and generally will be posted if they are on-topic and not abusive.
For more information, please see our Comments FAQ