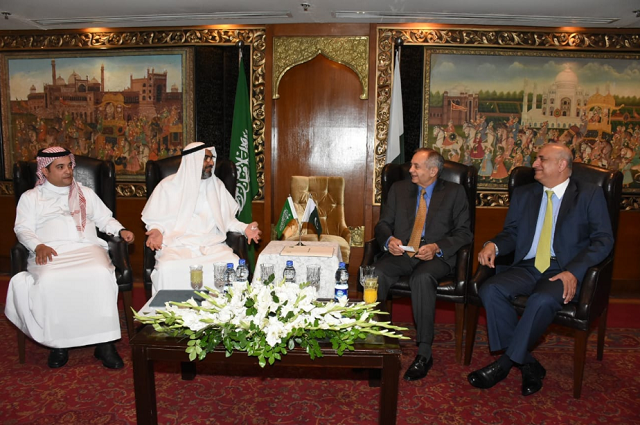 ---
ISLAMABAD: After holding meetings with federal ministers for petroleum, textile and power, the Saudi delegation visiting the country plans on holding talks on Saudi investment in Reko Diq gold and copper mines, setting up an oil refinery in Gwadar and investing in two energy power plants.

Saudi Arabia has offered to set up a multi-billion-dollar oil refinery in Gwadar besides acquiring stakes in LNG-fired power plants in Punjab, according to an official of the commerce ministry.

Govt to offer Riyadh stakes in Reko Diq, power plants

The Saudi delegation arrived on Sunday and is led by the kingdom's adviser on energy and mineral resources Ahmad Hamed Al-Ghamdi. Zarea Qaranbaish, the Director of Strategic Partnerships and Business Development of the Saudi Center for International Strategic Partnerships, and representatives of Saudi Aramco, the kingdom's oil company are also part of the delegation.

Pakistan's Ministry of Textile and Commerce is hosting talks and logistical support is being provided by the board of investment.

On Tuesday, the delegation will visit Gwadar and Punjab based LNG power plants to review their suitability. On their third and fourth day, they will hold additional talks on Pakistan's deferred payments. If all things proceed as planned, Pakistan and Saudi Arabia are expected to sign a Memorandum of Understanding, ushering in the beginning of a strong partnership.

Aide to Saudi crown prince makes surprise visit

Ahmad Agil Al-Khateeb, an advisor to Saudi Crown Prince Mohammad bin Salman visited the federal capital on September 27, just days after Prime Minister Imran Khan paid a visit to the monarchy.

Pakistan also offered Saudi Arabia join the China-Pakistan Economic Corridor (CPEC) projects, but there has not yet been any official word from either Saudi Arabia or China on any such agreements.