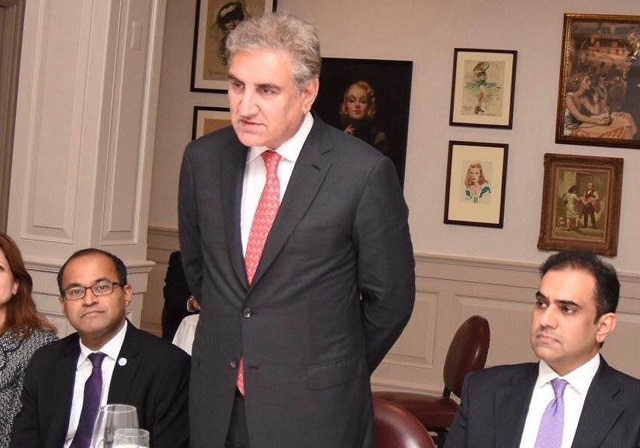 ---
Foreign Minister Shah Mehmood Qureshi termed India an impediment to South Asian Association for Regional Cooperation's (SAARC) progress after his Indian counterpart, Sushma Swaraj, left a SAARC meeting before hearing Pakistan's statement.

Qureshi was speaking to the media after an annual ministerial meeting of SAARC on the sidelines of the 73rd UNGA. The meeting was hosted and chaired by the foreign minister of Nepal and was attended by the foreign ministers of SAARC member states.

Alluding to India, the foreign minister said one country's behaviour was a barrier to regional connectivity and well-being and added that the regional cooperation body has been unable to make significant progress.


Minister of Foreign Affairs Shah Mahmood Qureshi Media Talk after SAARC Council of Ministers Meeting on the sidelines of UNGA Session in New York (27.09.18)#PTI #SAARC #UNGA @SMQureshiPTI pic.twitter.com/FgjqOCwUqB

— PTI (@PTIofficial) September 27, 2018


When asked if he spoke to his Indian counterpart, Qureshi said Swaraj left in the middle of the SAARC meeting. He also said he paid careful attention to her statement and call for regional cooperation but how could such an objective be possible when India was acting as a barrier to said cooperation.

"The foreign minister emphasised that one country was holding the 1.7 billion people of South Asia hostage, while making vague statements and unsubstantiated, whimsical allegations. The SAARC summit has already been delayed by two years, with no end in sight," said a statement by the Foreign Office (FO).

Twitter reacts as India cancels foreign ministers' meeting

Earlier, the Indian external affairs ministry had confirmed that foreign ministers of Pakistan and India would meet on the sidelines of the UNGA session, but the Narendra Modi-led government backed out of the talks a day later.

The Indian foreign ministry said the talks were called off after the "latest brutal killings of security personnel by Pakistan-based entities and the recent release of a series of twenty postage stamps by Pakistan glorifying a terrorist and terrorism". It did not provide further details about the alleged killings.

Reacting to the cancellation of talks, FM Qureshi said India had not responded positively to Pakistan's invitation for dialogue. "It seems that India is already preparing for its elections due in the country next year," he said. "Pakistan had asked for the talks in the larger interest of the region."