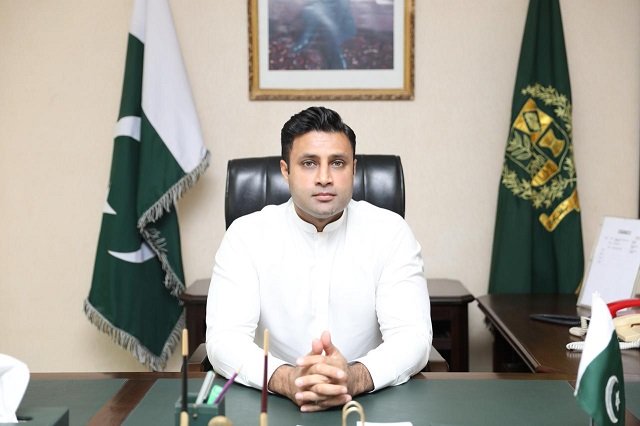 ---
Syed Zulfiqar Abbas Bukhari on Monday assumed charge as a special assistant to the prime minister for overseas Pakistanis and human resource development.

Zulfi Bukhari, as he is popularly known, is a close friend and aide of Prime Minister Imran Khan. After assuming charge, the new special assistant will enjoy the status of a state minister as per norm.

Bukhari is currently being investigated by the National Accountability Bureau (NAB) in connection with establishing offshore companies in the British Virgin Islands (BVI).

Zulfi Bukhari appointed special assistant to PM on overseas Pakistanis

The special assistant held a meeting with the federal secretary after assuming charge and was briefed on the performance of the ministry responsible for overseas Pakistanis and human development.

The Pakistan Tehreek-e-Insaf (PTI) supporter was recently embroiled in a controversy when he was stopped from flying to Saudi Arabia with the PTI chief only to be granted a one-time permission later to perform Umrah and return in six days.

However, the premier's decision was defended by Special Assistant to Prime Minister on Media Iftikhar Durrani who said Bukhari is a respected citizen with the required credentials to execute the job.

'Comfortable with PM': PTI defends Zulfi Bukhari's appointment

Responding to Bukhari's involvement in the case pending with NAB, Durrani maintained that Bukhari is being subjected to political victimisation for allegations moved by the previous government.

"It will be unfair to remove him from office until an actual reference is filed," said Durrani and assured that Bukhari will step down if he is implicated. He further emphasised that the government takes corruption references "seriously".

In July, the Islamabad High Court (IHC) maintained a petition filed by Bukhari seeking removal of his name from the blacklist and dismissed another petition questioning his and the PTI chairman's use of the Noor Khan airbase in Islamabad for a private flight to Saudi Arabia.

On July 15, the IHC permitted the Ministry of Interior to decide an application of NAB, which sought Bukhari's name on ECL, in connection with establishing offshore companies in the British Virgin Islands (BVI). IHC's Justice Aamer Farooq held that the MoI shall be at liberty to take appropriate action in accordance with the law on NAB's application for placing Bukhari's name on the ECL.