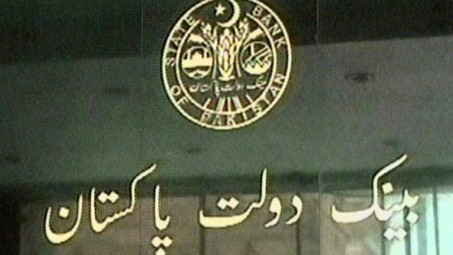 ---
KARACHI: The economy is expected to grow by 4.1 per cent in the fiscal year 2009-10 (FY10) on the back of above-target growth in livestock, manufacturing and services sectors, the State Bank of Pakistan (SBP) said on Tuesday. This Gross Domestic Product (GDP) growth will be 2.9 per cent more than last year's growth of 1.2 per cent.

Recovery in global markets, improvement in local business confidence and reasonable harvests have supported growth during the first three quarters (July-March) of 2009-10, the SBP said in its third quarter (January-March) report on the state of economy.

The report said the current account deficit has fallen sharply with foreign exchange reserves improving, although fiscal deficit is expected to overshoot its target. Govt borrowings from the SBP have so far been low relative to previous years, it added. It said projections for the current account deficit indicate an improved picture with the deficit expected to fall even lower in the range of 2.2-2.8 per cent of GDP during FY10. "This is substantially lower than earlier forecasts of 3.2-3.8 per cent and actual deficit of 5.7 per cent in FY09." This improvement is mainly due to an impressive performance of exports and remittances sent home by overseas Pakistanis, the SBP report said.

Trade deficit narrows

The report said contraction in trade deficit was the result of a 2.8 per cent year-on-year (YoY) fall in imports, supported by an encouraging eight per cent rise in exports.

For the whole year, exports are likely to remain in the range of $19.5 to $20 billion while imports are expected to be in a band of $31 to $31.5 billion. However, the report pointed out resurgence in inflationary pressures during the second half (January-June) of FY10. Annual Consumer Price Index (CPI) inflation will be slightly higher than earlier estimates, in the range of 11.5-12.5 per cent. The upward revision in the forecast range indicates that inflationary pressures have strengthened in the economy, it said.

LSM and agriculture

After posting a modest recovery in the first half of FY10, large-scale manufacturing (LSM) growth further improved in the third quarter. Re-entry of commercial banks into consumer financing helped strengthen the demand for consumer durables, the report said. The agricultural sector, however, is expected to post a below-target growth mainly due to water shortages and unfavourable weather conditions during most of FY10.

Fiscal deficit and VAT

According to the report, the country's fiscal performance has remained lacklustre. The SBP has revised upward its estimates for the fiscal deficit to 5.1–5.6 per cent of GDP mainly on account of rising current expenditures and low tax-to-GDP ratio of 9.3 per cent.

"Implementation of Value Added Tax (VAT) can be an appropriate remedy if supported by appropriate systems to curtail misuse of VAT refunds," the report said and added even though tax collection is likely to drop during the initial phase of VAT implementation, revenues and documentation of economy will improve in later years.

The SBP stressed that the country has to move aggressively to attract fresh investment by implementing additional reforms to increase economic efficiency and improve business environment.

Published in the Express Tribune, June 2nd, 2010.
COMMENTS
Comments are moderated and generally will be posted if they are on-topic and not abusive.
For more information, please see our Comments FAQ