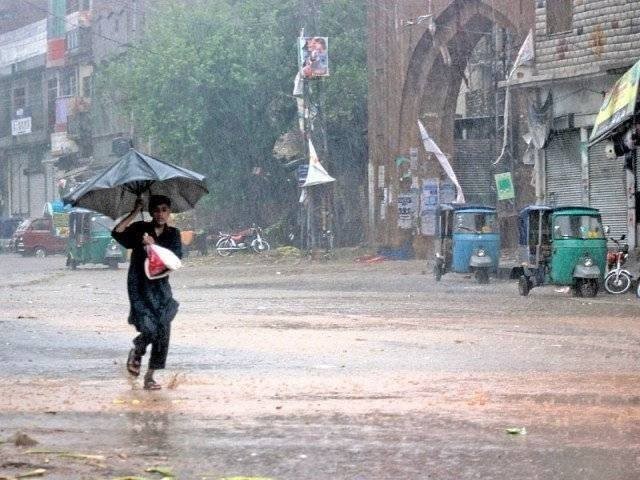 ---
LAHORE: Rain starting on Saturday midnight in the metropolis as well as various parts of the province, brought mercury down to 21 Celsius, which turned the weather pleasant.

The rainfall provided people with an opportunity to enjoy the weekly holiday, Sunday, more enthusiastically along with their friends and families. Parks, different food points and zoo remained crowded the whole day. Most Lahorites rushed to Jillani Park (Racecourse Park), Bagh-e-Jinnah and Shalimar Gardens to feel the cool effect of weather after drizzling blended with soft breeze. According to meteorological department, more rains are expected in the next 24 hours in the city.

Rain, thunderstorms predicted in Punjab

Meanwhile, Sialkot received heavy rain on Sunday, turning weather pleasant. The district administration issued flood warning following the rain spell. Rainwater gathered at different places in the low-lying areas of the city. The temperature was recorded 24 Celsius and humidity level in the air reached 75%. More rain is expected on Monday (today).

Keeping in view heavy rainfalls and flood forecast, Punjab Chief Minister Sardar Usman Buzdar has directed cabinet sub-committee for floods to ensure completion of all needful arrangements in advance. All relevant departments and organisations should remain alert in order to cope with any flood threat, he added.

'Drip irrigation most suitable for gram cultivation'

Addressing a meeting on Sunday, the chief minister said provincial and federal institutions concerned should coordinate and work together to ensure best arrangements for any emergency situation. He said all departments and institutions should perform their duties under best coordination and keep close contact with the Meteorological Committee for Flood. Information related to climate situation should be received on a daily basis, he said and further directed the departments concerned to devise an emergency plan regarding rain and potential flood.

Buzdar also said Civil Defense Department should also remain vigilant to deal with any unforeseen situation. He said that he will personally supervise the arrangements and will not tolerate any laxity in these precautionary measures.

Published in The Express Tribune, September 24th, 2018.