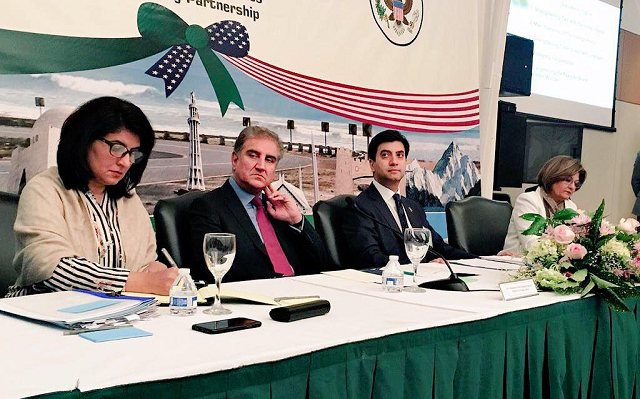 ---
Foreign Minister Shah Mehmood Qureshi has called for Pakistani-Americans to contribute generously towards the dam fund in order to tackle the impending water crisis in the country.

Qureshi made these remarks while addressing an interactive session of Pakistani-American community at the country's embassy in Washington on Sunday.

The foreign minister said that the government has mobilised a campaign to build the Diamer-Bhasha and Mohmand dams.

"We are determined to address the urgent issues of water scarcity in Pakistan and we need you to contribute to this noble cause," he added.

FM Qureshi sees second meeting with Pompeo as key to better ties with US

Prime Minister Imran Khan in his very first message after his election win offered India that "if they took one step towards peace Pakistan would take two more," reaffirmed.

Qureshi said that that Prime Minister Imran Khan wants to engage with Pakistani Americans.

He said that the country's premier is fully aware of the Pakistani diaspora's strengths and contributions.

Qureshi said that overseas Pakistanis want to see a positive change in the country.

He thanked the community for lending their support to the Imran-led Pakistan Tehreek-e-Insaf (PTI).

"Overseas Pakistanis want a better governed Pakistan with primacy of the rule of law," he added.

"We will do our best to come up to the expectations of the people of Pakistan as well as overseas Pakistanis," Qureshi said.
COMMENTS (2)
Comments are moderated and generally will be posted if they are on-topic and not abusive.
For more information, please see our Comments FAQ