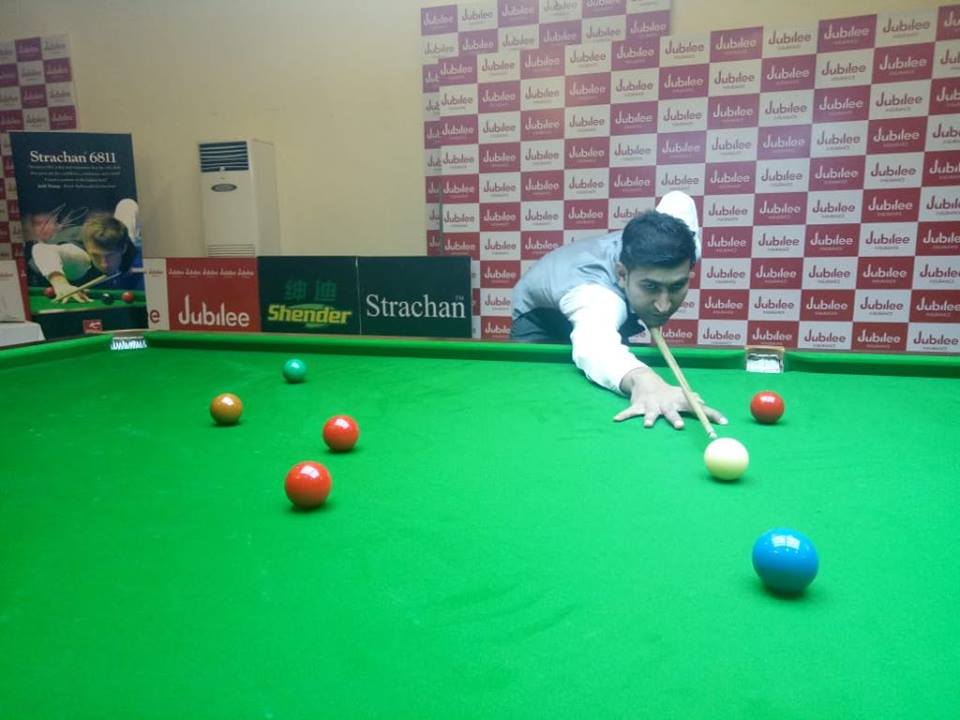 ---
KARACHI: Endless training maybe one thing, but Babar Masih has mixed things up.

Babar won the National Ranking Championship on Monday night after he outclassed the unseeded Asif Toba 8-5. He also routed his Asian 6-Red teammate, former IBSF World Champion Muhammad Asif in the semi-final 6-5 before flying out with a five-member squad to Doha.

Competing in the newly crowned Jubilee Insurance National Ranking Snooker Championship, at the Asian 6-Red Championship team tournament as well as 6-Red Snooker Championship in Qatar, Babar made his own investments in preparing for these events. He trained in at least three different cities with top cueists of the country to assure his best at the events.

For Babar, the best way to prepare for these events was to get out of his home-town Rawalpindi in order to gain more exposure before the National Ranking Championship.

"I thought I was not going to gain much if I only stayed in Pindi," Babar told The Express Tribune from Doha. "It was a decision I made quickly, that I would travel around the cities in Punjab to practice with the better players, it was essential for me to get the national title and to prepare for the Asian 6-Red. I went to Lahore, spent a week there then to Faisalabad as well as other cities. Asif, Muhammad Majid Ali, Muhammad Bilal and I; all of us travelled together playing the best matches at the training. It was an investment I needed to make."

Babar participating in the Asian Championship along with Asif, the duo won silver at last year's Asian Team Snooker Championship in Kyrgyzstan. Majid and Bilal are also participating in the competition.

Babar believes playing alongside Pakistan's professional player Hamza Akbar who was in Lahore for few days, helped him the most.

"I thought the gamble was worth it, for example in Lahore I got to spend time with Akbar who was here from the UK. He pointed out certain weaknesses that I had in my game, so that was helpful, because it is important for a player to grow. The more players I trained with, the more I understood my own game. Retaining top rankings at the domestic level is more difficult at times, and I feel I was able to retain my position among the top players because of this," explained Babar.

But this was a self-initiated effort.

"I still don't represent any department or have a job like that, but I managed to save enough money for this little tour before the national Ranking Championship, it is what I can do in my own capacity, I train around eight to 10 hours a day," said Babar.

On the other hand, the draws for the Asian 6-Red came out late on Tuesday evening. Babar feels confident about his run in Doha, with Asif on his side.

"We all want to win, and I know the competition is not going to be easy. With players from Thailand, Iran, India, China and Hong Kong it will not be a walk in the park. But Asif and I have been doing well in international events, I'm certain we will do great," said Babar.

Asif also added that confidence and preparation is the key to success.

"The national ranking was interesting, but now it is about the Asian Championship and we are here to win, in team event which is slower, with 15 balls and individual 6-Red even which is more attacking," said Asif.

The Asian event will begin on Wednesday, and the players are accompanied by international referee Naveed Kapadia along with U21 Asian Championship 2018 runner-up Haris Tahir, who will be playing ACBS Asian Snooker Tour with Bilal.
COMMENTS
Comments are moderated and generally will be posted if they are on-topic and not abusive.
For more information, please see our Comments FAQ