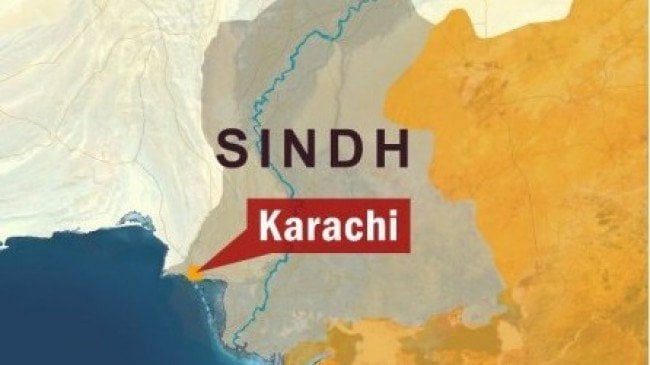 ---
KARACHI: Thunderclouds are getting ready to stage a loud play in Sindh, the weatherman has warned.

According to PPI, the depression in central Arabian Sea has intensified into a tropical cyclone. It is presently located at about 1,100 kilometres south-southwest of Karachi and is expected to move towards north and north west within 24 hours and then curve towards Sindh, said Pakistan Meteorological Department Director-General Dr Qamaruz Zaman Chaudhry on Tuesday afternoon.

Heavy rains are expected in the coastal areas of Sindh from Thursday to Saturday. Chief Meteorologist at Karachi Riaz Ahmed has said that the storm will lead to heavy rains in Sindh and Makran and winds will rage at speeds up to 120 km per hour. According to the meteorology department, rains with gusty winds, dust storms and thunderstorms are expected in Karachi, Thatta, Badin, Tharparkar, Umerkot, Hyderabad and southern parts of Mirpurkhas on Friday and Saturday.

Due to the cyclone, sea conditions are expected to be quite rough and high tides are likely to develop near the Sindh-Makran coast. Fishermen have been instructed not to go too far out into the sea from Thursday to Saturday due to the gusty winds expected within 48 hours, said Thatta DCO Manzoor Ahmed Sheikh. The meteorology department has also warned fishermen to return from the deep sea by Wednesday evening and refrain from venturing any further till after Saturday.

He told journalists in Thatta that the storm can affect towns and villages located along the sea. Relevant departments in Badin and Hyderabad have been instructed to take necessary steps to prepare for any emergency that might be created by heavy rains.

According to Sheikh, schools in five coastal talukas have been selected as emergency camps if the need arises. Meanwhile, villagers at the coastline have been advised to shift to safer areas. According to Hyderabad DCO Aftab Khatri, all necessary arrangements have been made. The storm is likely to hit coastal areas of Sindh and Makran in the next 36 hours.

No bathing, swimming in the sea

The city administrator, Fazlur Rehman, has imposed section 144, thereby banning bathing or swimming in the sea along the entire length of the coast within the city district government's limit. He was informed by the Pakistan Meteorological Department in Islamabad that a depression has formed in central Arabian Sea and the current environmental conditions including are likely to turn this depression into a tropical cyclone.

According to the administrator, he has directed relevant officials to take all precautionary measures especially in the coastal areas including Keamari, Saddar, Korangi, Landhi and Bin Qasim towns, for safeguarding the life and property of people.

Published in the Express Tribune, June 2nd, 2010.
COMMENTS (9)
Comments are moderated and generally will be posted if they are on-topic and not abusive.
For more information, please see our Comments FAQ