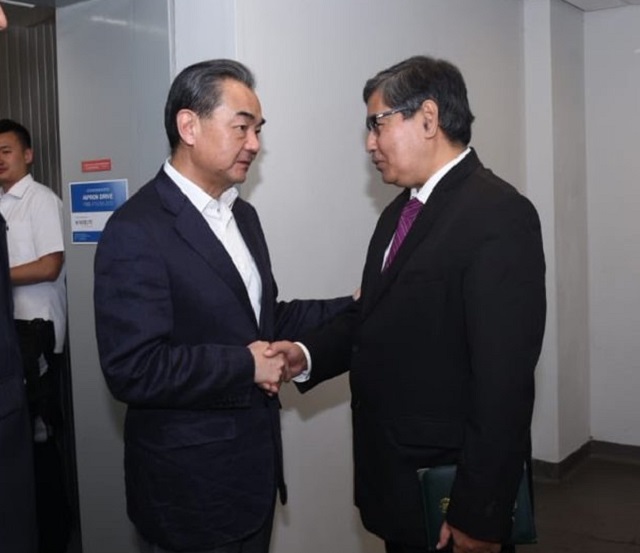 ---
ISLAMABAD: China's Foreign Minister Wang Yi began his three-day official visit to Pakistan on Friday.

The top Chinese official was received by a senior Foreign Office official at the Noor Khan Airbase at Chaklala, drawing a strong reaction from PML-N Senator Mushahid Hussain Sayed, who suggested that some senior government functionary should have welcomed him at the airport instead.

PM forms CPEC body to resolve issues, complete projects on time

Mushahid Hussain shared a picture of June 2017 when then Punjab Chief Minister Shahbaz Sharif had received the Chinese Foreign Minister. "But, today, on arrival at Islamabad, he got 'Pompeo treatment', when junior Foreign Office official received him! Protocol oversight or deliberate downgrading?" he asked.

Meanwhile, during his stay in Islamabad, the top Chinese official would hold talks with his Pakistani counterpart Shah Mehmood Qureshi and meet Prime Minister Imran Khan as well as the Army Chief.

He is also scheduled to meet the President-elect and various leaders of the opposition.

The visit would provide an opportunity to the Chinese leader to interact with officials of the new government. In his victory speech, Prime Minister Imran Khan had specially mentioned close ties between China and Pakistan.

Given the current economic state, China holds great significance in the scheme of thinking of the new government. The China-Pakistan Economic Corridor (CPEC) would also come under discussions, according to officials familiar with the agenda.

Among other issues likely to be discussed include the current regional security situation. The Chinese top official is in Pakistan just days after US Secretary of State Mike Pompeo visited Islamabad where he conveyed Pakistan the need for taking 'sustained and decisive' action against terrorist groups threatening regional peace and stability.

Pakistan, however, insisted that there was no emphasis this time from the US to 'do more'. Nevertheless, Pomeop travelled to New Delhi where he was joined by Defense Secretary James Mattis.

The joint statement issued by the US and India asked Pakistan to not allow its territory to be used against other countries. They also urged Pakistan to bring perpetrators of Mumbai attacks to justice.

Against the growing Indo-US turmoil, Pakistan expects its "all-weather friend', China, to back it.




COMMENTS (2)
Comments are moderated and generally will be posted if they are on-topic and not abusive.
For more information, please see our Comments FAQ