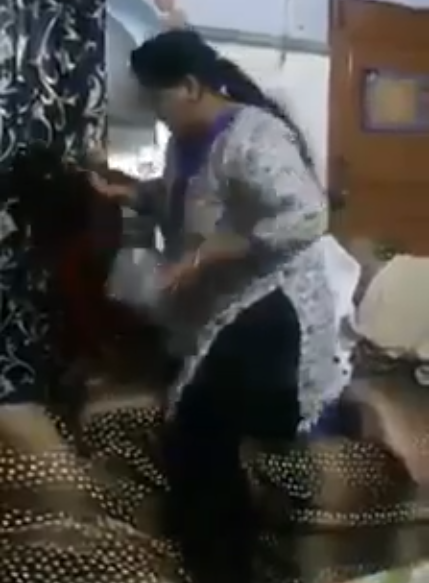 ---
Footage featuring a woman mercilessly attacking a juvenile maid over "excess tea" has stoked social media uproar.

Tayyaba torture case: Court increases sentence of judge, wife to three years

The woman is seen striking the child for"making tea for a family" in the viral video. The maid is then subjected to a volley of (verbal) abuse and has her hair yanked.

"Had warned her time and again. Incorrigible girl has no shame," the mistress of the house says before tugging at her ear and striking her cheek again.

The woman then threatens to throw the child out. "Get lost. Today is your final day (here).

A man is heard interjecting after. "Hired a 14-year-old in the first place. And now you are attacking her mercilessly."

The woman then orders the child to place the stockpot in the kitchen and retire to a room.

The video stoked widespread social media uproar. Human Rights Minister Shireen Mazari solicited public assistance on micro-blogging site Twitter to identify the woman.


Can anyone help identify who this woman is and where she is based? Need this info to act. https://t.co/7sqbZuawvD

— Shireen Mazari (@ShireenMazari1) September 7, 2018


Many rapped the woman and questioned how another could watch the incident transpire and not intervene. Others demanded Supreme Court Chief Justice Saqib Nisar take notice.

Couple beats child maid with belt

Abuse of domestic helpers is pervasive nationwide with scores of incidents reported regularly.

In 2017, an additional district and sessions judge and his spouse were convicted of burning a juvenile maid's hand over a missing broom, beating her with a ladle, detaining her in a storeroom and threatening her with even worse. Their one-year prison sentence was later enhanced to three years by Islamabad High Court.

The Express Tribune could not independently verify the video.