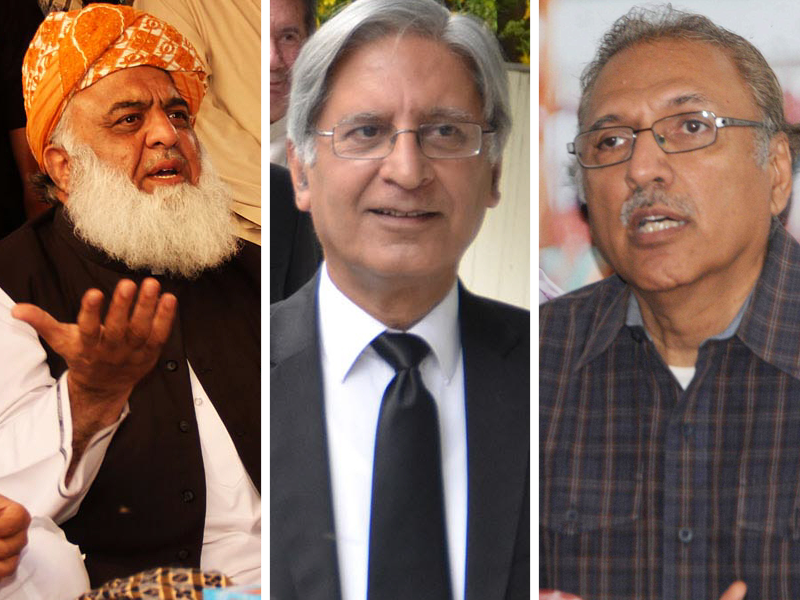 ---
Fazlur Rehman

In the 2018 elections, Maulana Fazlur Rahman lost both Dera Ismail Khan's constituencies, NA-38 and NA-39, which Pakistan Tehreek-e-e-Insaaf's (PTI) Ali Ameen Gandapur and Muhammad Yaqoob Sheikh won respectively.

Rehman's family has been politically active in the area since the 1960's. His father Mufti Mehmood was a founding member of Jamiat Ulema-e-Islam and served as chief minister of Khyber Pakhtunkhwa in 1972. Rehman has headed the JUI-F since his father's death in 1980 and been elected to the Parliament four times.




In 2013, he won from both Dera Ismail Khan's constituencies (NA-24, NA-25) and Lakki Marwat (NA-27). In 2008, he won from the seat in Bannu (NA-26).

Rehman is seen as a shrewd politician, changing his proclaimed views often to suit his own appeal and electability. In this election, he was heading the revived Muttahida Majlis-e-Amal (MMA), a cross-party alliance of Jamiat Ulema-e-Islam-Fazal (JUIF), Jamaat-e-Islami (JI), Jamiat Ahle-e-Hadith, Jamiat Ulema-e-Pakistan-Noorani (JUPN) and Tehreek-e-Islami (TI).

PkMAP will support Fazl in presidential poll: Achakzai

In the late 80's Rehman had close ties with the Afghan Mujahideen and remained pro-Taliban after the events of 9/11 and the US invasion of Iraq.

In 2002, after being released from prison, Rehman formed an iteration of the MMA to contest elections and emerged as a potential prime ministerial candidate, and was termed 'the West's worst nightmare' for Pakistan.

Rehman distanced himself from the Taliban in time for the 2008 elections and continued to weave back and forth between moderate and more right-wing stances. His candidacy for president is backed by the opposition groups led by the Pakistan Muslim League-Nawaz (PML-N).

Aitzaz Ahsan

PPP's presidential candidate, Aitzaz Ahsan is a senior advocate and activist. He was born in Murree in 1945 and studied at Aitchison College, Government College and is a graduate of Cambridge University.

Ahsan was imprisoned several times for his active role in the Movement for Restoration of Democracy during military dictator Ziaul Haq's regime. During his time in jail, Ahsan wrote 'The Indus Saga and the Making of Pakistan'.




In 2007, Ahsan was imprisoned after leading the lawyers' movement that began after President General Pervez Musharraf suspended the chief justice of the Supreme Court, Iftikhar Muhammad Chaudhry.

Ahsan served as Punjab's provincial minister of information, planning and development and as a federal minister for law and justice, and interior and narcotics control. He has been a member of the Senate and a leader of the opposition in the Senate twice.

Ahsan is a senior partner at Aitzaz Ahsan and Associates and has previously served as president of the Supreme Court Bar Association.

Three's a crowd: The road to presidency

Arif Alvi

PTI's presidential candidate Arif Alvi is a founding member of the party and held the secretary general post from 2006 to 2013.

He was a practising dentist before he opted to join politics and become a parliamentarian. Alvi contested his first elections in 1997 on a provincial seat before contesting from a national assembly seat in 2002.

In 2013, he was elected as an MNA from Karachi's then NA-250 constituency.




In the 2018 elections, Alvi won a clear victory from Karachi's NA-247 seat.

Alvi acquired his dental degree BDS (dentistry) from de'Montmonrency College of Dentistry. He completed his Masters in prosthodontics from the University of Michigan in 1975 and Masters in orthodontics in 1984.

Alvi began his political career as a student union president in Lahore and is one of the few original authors of the PTI's constitution.

In 1969, Alvi was active in the student movement during Field Marshal Ayub Khan's era. He was shot during a protest on Mall Road, Lahore and proudly carries a bullet in his right arm.

Polling commences to elect 13th president of Pakistan

In 1979, he was a Jamaat-e-Islami candidate for the provincial assembly but elections did not take place. Alvi became the president of PTI's Sindh chapter in 1997. In 2001, he was promoted to the position of vice president PTI.

In 2007, Alvi was the first Pakistani to be elected as a councillor of the World Dental Federation. He is the managing trustee of the trust established by Shirinbai Jinnah.


COMMENTS (2)
Comments are moderated and generally will be posted if they are on-topic and not abusive.
For more information, please see our Comments FAQ