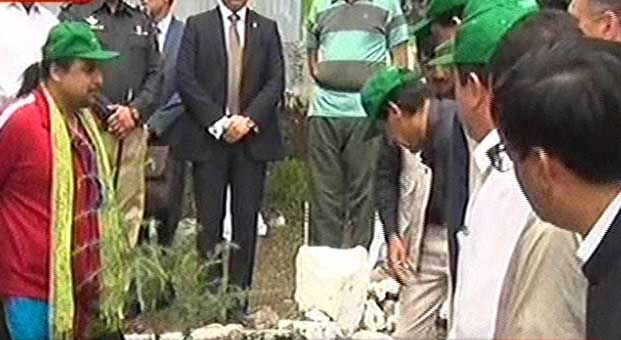 ---
ISLAMABAD: Prime Minister Imran Khan officially launched "Ten Billion Tree Tsunami" campaign by planting a tree sapling in Haripur on Sunday.


Today we launch our tree plantation drive #Plant4Pakistan across the entire country. I want everyone to join this #GreenPakistan drive so we can counter the twin threats of climate change and pollution confronting our future generations.

— Imran Khan (@ImranKhanPTI) September 2, 2018


Approximately 1.5 million trees expected to be planted across the country under the daylong campaign.

Tree saplings are being planted under the 10-billion tree tsunami plan.


For the sake of our present & future generations and effective control of climate change, let us join hands with the vision of Prime Minister Imran Khan.#Plant4Pakistan 🇵🇰 pic.twitter.com/o6yTtOl7Bk

— Govt of Pakistan (@pid_gov) September 2, 2018


Arrangements have been made to provide cost free samplings through 190 distribution points across the country.



Adviser to Prime Minister on Climate Change Amin Aslam has said that Green Pakistan Programme (GPP) initiated by former prime minister Nawaz Sharif is to be integrated into the Billion tree tsunami. Following the decision of the cabinet regarding the initiation of the mass tree plantation drive across Pakistan from Sunday.

https://twitter.com/InsafPK/status/1036180622178496512

'Plant for Pakistan' drive kicks off tomorrow

Aslam said that the Billion Tree Tsunami was a successful project recognised at a national and international level. "Now we have to extend this programme to the whole country," Aslam said. He also highlighted that Green Pakistan Programme will be integrated into the Billion Tree Tsunami and emphasised that monitoring of plants was very important for plantation.


Plantation drive in full swing across all the Government Schools in Peshawar#Plant4Pakistan pic.twitter.com/uNBQQ2tlKW

— PTI (@PTIofficial) September 2, 2018


Trees are to be planted and distributed all over Pakistan on Sunday, Aslam also instructed to include all institutions in this important task.

Plant for Pakistan: Massive plantation drive on Sept 2

The campaign's objective is to motivate general public to make Pakistan greener, and inspire communities, businesses, industrial sector, organisations and the civil society to come together for the cause.


Plantation activity taking place at Quaid-e-Azam University#Plant4Pakistan pic.twitter.com/dWQEJQZnTS

— Tehreek-e-Insaf (@InsafPK) September 2, 2018
In addition to kids, youngsters & especially female youngsters have also been our driving force. Scenes from KPK where college students are taking part in Prime Minister's 10 Billion Tree Tsunami drive. #Plant4Pakistan pic.twitter.com/foFHd241rG

— PTI (@PTIofficial) September 2, 2018


The drive is also aimed at enlightening people to create a much-needed awareness about the countless benefits of planting trees.


Pakistan is one of the 7 countries most affected by global warming. Let's play our role in saving future of our coming generations.
Federal Minister of info @fawadchaudhry participating in 10 billion trees tsunami campaign #Plant4Pakistan@btap2015 @aminattock @pid_gov pic.twitter.com/xGskSD2oe7

— Fawad Chaudhry (Updates) (@FawadPTIUpdates) September 2, 2018


On Thursday, Adviser to the Prime Minister on Climate Change Malik Amin Aslam said that 200 events would be held nationwide during the campaign. He also said that the events will be showcased in 18 major cities in all the provinces and AJK.