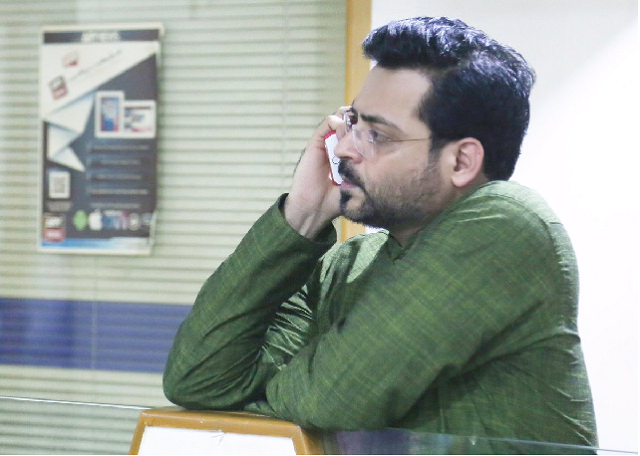 ---
KARACHI: Disgruntled MNA Aamir Liaquat Hussain left a PTI WhatsApp group, made for communication between the party's lawmakers, after being snubbed from an earlier gathering at the Governor House in Karachi.

"When I make noise, you listen. I made noise and I got a party ticket, I made noise and suddenly the governor has my number which he claimed he didn't before," said Hussain in his last voice message on the group.

Hussain was specifically angry at PTI Secretary Information Shehzad Qureshi. "Everyone's respect is in their hands, don't ruin yours," added the disgruntled lawmaker from Karachi before leaving the Whatsapp group. "You will have bigger problems in the future if you treat your own in this manner and insult them."

Aamir Liaquat annoyed with PTI leadership over Governor House

Earlier, the PTI winner from NA-245 publicly voiced reservations about local party leadership's decision of not inviting him to a meeting at the Governor's House.

Newly-sworn in Governor Imran Ismail invited all MNAs and MPAs from Karachi to the meeting except him, he tweeted on Tuesday night expressing annoyance over the alleged discrimination against him.

He also used PPP co-chairman Asif Ali Zardari's quote "is tarha to hota hai is tarha kay kamo mein" (this is what happens in these types of situations).

Later, speaking to a private TV channel, he said that the Governor's House is still functional and sessions are being held there despite the party leadership's stance of not utilising the vicinity in as part of its austerity drive.

Social media backlash

PTI leader Faisal Vawda, while speaking to a private news channel, said: "He [Amir] is an emotional person and I'm sure he didn't mean what he said".

Vawda added that the party could never disregard the many problems of Karachi.

Commenting on Liaquat's statement that he won the election from his constituency owing to his own following and not because of PTI chief Imran Khan, he said that,"the party leader adds weight to the ticket and this is not the case at all in my opinion".

Consolidated effort: Minister suggests one, instead of multiple surveys

He said that the party leadership would try to resolve the issue with the PTI parliamentarian.

https://twitter.com/ItsJavedMiandad/status/1034774590071943168

Former Pakistan cricket captain Javed Miandad called out Liaquat in the wake of his remarks by saying that,"It is sad to see him trying to create divisions in the country by claiming that Karachi has been neglected".

Miandad also called for unity and doubled down on how citizens of the coastal city were well informed.

"Don't take Karachi lightly, this is the hub of the country," he added.