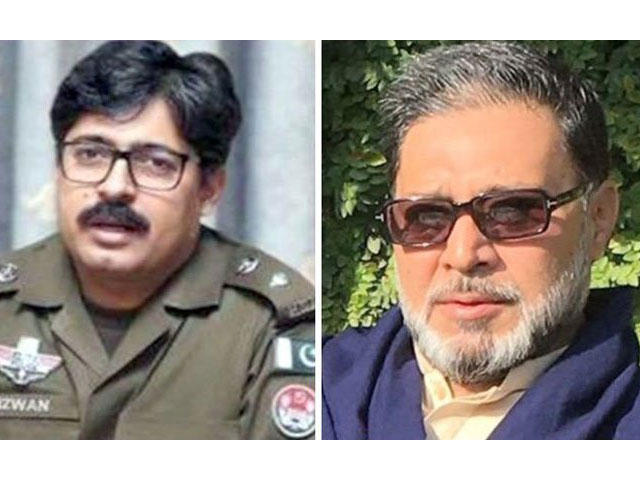 ---
LAHORE: The district police officer (DPO) of Pakpattan who had reportedly pulled over Khawar Maneka - former husband of first lady Bushra Imran - four days ago has been transferred.

On August 23, it was reported that a police team led by DPO Rizwan Omar Gondal briefly intercepted Khawar's car after he didn't stop when signaled by the police to do so. Khawar was also believed to have misbehaved with the officials.

The officer was later directed to visit Maneka Dera, Khawar's residence, and tender an apology to him for intercepting the vehicle.

The DPO told a meeting called by Chief Minister Usman Buzdar that the police department had only fulfilled its duties and that he won't apologise to Khawar. Shortly after, the officer was transferred and asked to report to Central Police Office (CPO) in Lahore.

Punjab IGP refutes officer's claims

Meanwhile, spokesperson of the Punjab police denied the transfer of DPO due to any pressure. He said that inspector-general of police (IGP) Kaleem Imam transferred the officer for falsely narrating the incident to higher authorities. He further said that the DPO repeatedly misreported the misbehaving of police with citizens.

First Lady Bushra Imran calls for national unity in Eidul Azha message

The spokesperson further said the IGP had ordered an inquiry against Gondal for manipulating the transfer orders and making the incident viral on social and electronic media. Gondal, he added, had been transferred for irresponsible behavior and lying.

The officers responsible for misconduct and misguiding the seniors deserved no leniency, the spokesperson maintained.

PM Imran takes notice

Prime Minister Imran Khan has taken notice of the incident and has asked Punjab CM to submit an inquiry report into the matter.

Despite repeated attempts, Inspector General of Punjab Police Syed Kaleem Imam, spokesperson Punjab police Syed Nayab Haider, newly nominated Punjab Information Minister Fayyazul Hassan Chohan and Rizwan Gondal could not be reached for comment.

In 2016, DPO Bahawalnagar Shariq Kamal Siddique was dismissed from service after he conducted a raid on the residence of a member of the National Assembly belonging to Pakistan Muslim League-Nawaz who had allegedly tortured police officials at a check-post after he was pulled over.




The incident also drew reactions on the social media:


If this Khawar Maneka story is true, We insafians need to speak against it.

— Mustafa Khetran (@MustafaKhetran9) August 27, 2018


https://twitter.com/PervaizRashid3/status/1034088337596981251

https://twitter.com/OshaHussain/status/1034051571393486848


Looks like Pakpattan DPO enjoys a good reputation.

IK involvement or not, this Khawar Maneka is a politically connected influential senior civil officer, a feudal Pir with half of his family in assemblies, hardly unusual for someone at his level to not have an attitude problem.

— Sana (@MsTariqHistory) August 27, 2018


https://twitter.com/lion_faisal/status/1034056493010771970