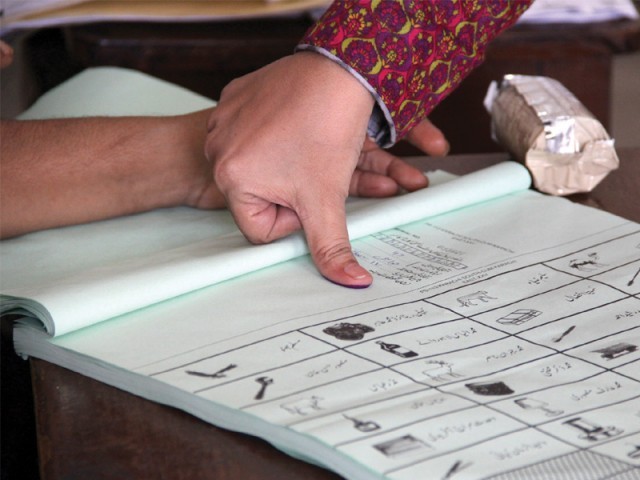 ---
ISLAMABAD: In last month's general elections, more women in Chakwal turned up and polled votes than men despite them being registered in lesser number in the electoral rolls.

National Assembly's NA-64 constituency not only witnessed the highest women turn out in the country, but also the female voters outnumbering men in votes polled in the July 25 election.

According to gender wise voters' data of the polls, 51.01 per cent of the votes cast in constituency came from women.

There were 551,011 registered voters in the constituency – 281,361 male and 269,650 female in the constituency. A total of 320,394 votes were polled with an overall turnout of 58.15 per cent.

Of the polled votes, 163,741 or 51.01 per cent were women, while 156,653 or 48.81 per cent were male.

More women elected from Sindh, K-P than Punjab

Zulifiqar Ali Khan of Pakistan Tehreek-e-Insaf (PTI) won in this constituency, securing 155,214 votes. PML-N's Major (retd) Tahir Iqbal was runners up with 130,051 votes.

NA-64 is the only constituency where more than 50 per cent of the total votes were cast by women.

The next highest women voting in last month's elections was witnessed in the adjoining constituency NA-65 Chakwal, where almost 50 per cent of the total votes were women. In NA-65 of the 552,523 registered voters, 306,975 votes were polled with an overall 57.35 per cent turnout. Among those who polled votes, 160,225 or 50.30 per cent were male and 156,657 or 49.18 per cent were female.

'Low representation of women voters, candidates due to persistent patriarchy'

PML-Q's Pervaiz Elahi, who has now become Punjab Assembly speaker, won the seat securing 157,497 votes against PML-N's Muhammad Faiz Malik who bagged 106,081 votes.  Elahi has retained a provincial assembly seat, and vacated NA-65 seat.

Professor Tahir Malik, who belongs to the district, while commenting on the reason for higher women voters' turnout, said that Chakwal has the highest literacy rate in entire Punjab. He said there is a rapid increase of higher education in the district which had been considered a conservative area in the past. The third factor, according to him is better means of communication including motorway, and road networks.

Most people from the area serve in the military which gives them exposure, social and political awareness about their rights, he added.

Other constituencies where women voting remained relatively much better include NA-56 Rawalpindi and NA-71 Gujraat.  In NA-56 women votes were 48.60 per cent and in NA-71 women votes were 48.20 of the total votes polled these constituencies.

NA-56 is actually Gujar Khan tehsil of Rawalpindi district and neighbouring area of Chakwal while NA-71 comprises area surrounding Sarai Alamgir.

In a historic first, women cast votes in remote Punjab village

Both these constituencies are situated on the GT Road and have sizeable population in the armed forces and abroad. Analysts believe that with increasing foreign remittances resulted into financial independence and empowered the women of the area.

On the other hand, there were some constituencies where women voting remained even less than 10 per cent of the total votes, a deficiency that should render results of polls for the seats invalid.

According to the elections laws, if the turnout of women voters is less than 10 per cent of the total votes polled in a constituency, the Election Commission of Pakistan (ECP) is supposed to declare the results invalid and order re-poll. However, the ECP seems to have conveniently overlooked the results in these two constituencies.
COMMENTS (1)
Comments are moderated and generally will be posted if they are on-topic and not abusive.
For more information, please see our Comments FAQ