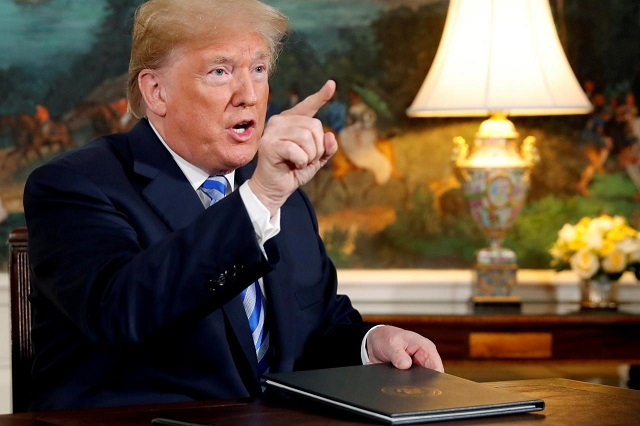 ---
ISTANBUL: The Turkish lira weakened against the dollar on Tuesday after US President Donald Trump said he would give Ankara no concessions in return for the release of a detained American pastor, the latest salvo in a worsening rift between the Nato allies.

In an interview with Reuters, Trump criticised Turkey on Monday over the detention of evangelical Christian pastor Andrew Brunson and said he was not concerned that his tough stance against Turkey could end up hurting European and emerging market economies.

Brunson, who is originally from North Carolina and has lived in Turkey for two decades, has been detained for 21 months on terrorism charges, which he denies. The pastor has become an unwitting flashpoint for the diplomatic tension, which has accelerated the lira crisis.

Dialogue 'best way' to resolve conflict between Pakistan, India: PM Imran

Trump said that, after he helped persuade Israel to free a detained Turkish citizen, he thought Turkish President Recep Tayyip Erdogan would then release Brunson.

"I think they're making a terrible mistake. There will be no concessions," Trump said.

The lira weakened to 6.0925 against the US dollar on Tuesday, from a close of 6.0865 on Monday, when Turkish markets began a holiday to mark the Eidul Azha festival that continues for the rest of the week.

Trade was thinner than usual and probably mainly offshore, with local markets closed for the holiday. The currency has lost 40% of its value against the dollar this year. However, selling on Tuesday was limited due to a broadly weaker dollar. Turkish government officials did not comment on Trump's remarks when they spoke after prayers to mark the start of the festival.

Devlet Bahceli, leader of a nationalist party allied with Erdogan's AK Parti, told reporters, "We have no business with those who love Brunson more than us."

Erdogan's comments

Erdogan, who had been expected to speak to reporters after morning prayers, made no public statement. He has repeatedly cast the currency crisis as an attack on Turkey, but has stopped short of singling out any one country.

On Monday, he appealed to Turks' religious and patriotic feelings, promising they would not be brought to their knees by the economic crisis.

PBC urges Asad Umar to focus on 'Make in Pakistan'

Turkey has demanded that the United States hand over Fethullah Gulen, a Turkish cleric who lives in the US and who Ankara says orchestrated a failed coup attempt, but Washington has balked at this.

A Turkish court last week rejected Brunson's appeal for release, drawing a stiff rebuke from Trump. The US president, who counts evangelical Christians among his core supporters, has said he would double previously announced tariffs on Turkish steel and aluminium imports.

On Monday, Turkey initiated a complaint with the World Trade Organisation over the tariffs. Separately, ratings agency Fitch said on Tuesday that tight liquidity amplified risks for Turkish companies.

Published in The Express Tribune, August 22nd, 2018.

Like Business on Facebook, follow @TribuneBiz on Twitter to stay informed and join in the conversation.