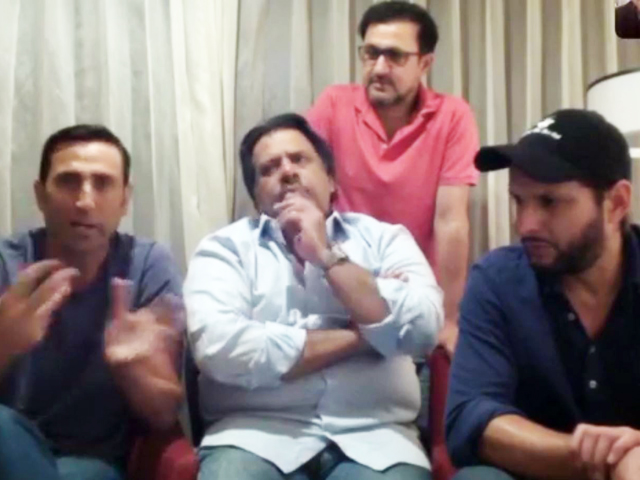 ---
Top Pakistani sportsmen from Khyber-Pakhtunkhwa have called upon the administration of Prime Minister Imran Khan to pursue 'sports diplomacy' with India and Afghanistan in an effort to reset fractured ties between the two hyphenated neighbours. They have also offered to play a role in this regard, if asked by the government.

Cricket stars Shahid Afridi and Younis Khan, squash legend Jahangir Khan and popular Pashto pop singer Rahim Shah said this in a recent group interview with Rahman Bunairee of Deewa Radio, the Pashto service of Voice of America (VOA). "This is the age of sports, not of war and conflict."

"I've played with cricketers from Afghanistan. I've very good relations with them," former Pakistani skipper Younis Khan said. "Cricket diplomacy is very important," he added. "Prime Minister Imran Khan should use our contacts [for promoting ties with Afghanistan]."


"د افغانستان او هندوستان سره د پاکستان د لوبو سفارتکاري به گټه وکړي" https://t.co/UoSVHhCT2a

— Rahman Bunairee (@RahmanBunairee) August 18, 2018


Pakistan's army chief told me he wanted to be a cricketer: Sidhu

Relationship between Pakistan and Afghanistan has been plagued by mistrust and mutual recrimination. Last week, Afghan officials blamed Pakistan of helping the Taliban in their recent offensive in Ghanzi, an allegation vehemently denied by Islamabad.

India's cricketer-turned-politician Novjot Singh Sidhu visited Pakistan for the swearing-in ceremony of Premier Khan where he called for the two countries to bury their bitter past and look to the future.

"Sidhu has said this now, while I've been saying this since long that cricket has the potential to bring Pakistan and India closer," Afridi told Deewa Radio.

Sidhu under fire in India for hugging Pakistan's army chief

Jahangir Khan said that politics should never affect sports. "Sports should never become a casualty in political confrontation," said the legendary squash player.

"Like other sports, Imran Khan should also take concrete steps for the revival of squash in Pakistan," Jahangir said. "Like cricket and hockey, Pakistan has ruled the world of squash for more than a decade."

On his part, singer Rahim Shah said he has been singing for bringing the people of Pakistan and Afghanistan closer. "Peace is my mission and I'll continue to pursue my mission," he said.
COMMENTS (1)
Comments are moderated and generally will be posted if they are on-topic and not abusive.
For more information, please see our Comments FAQ