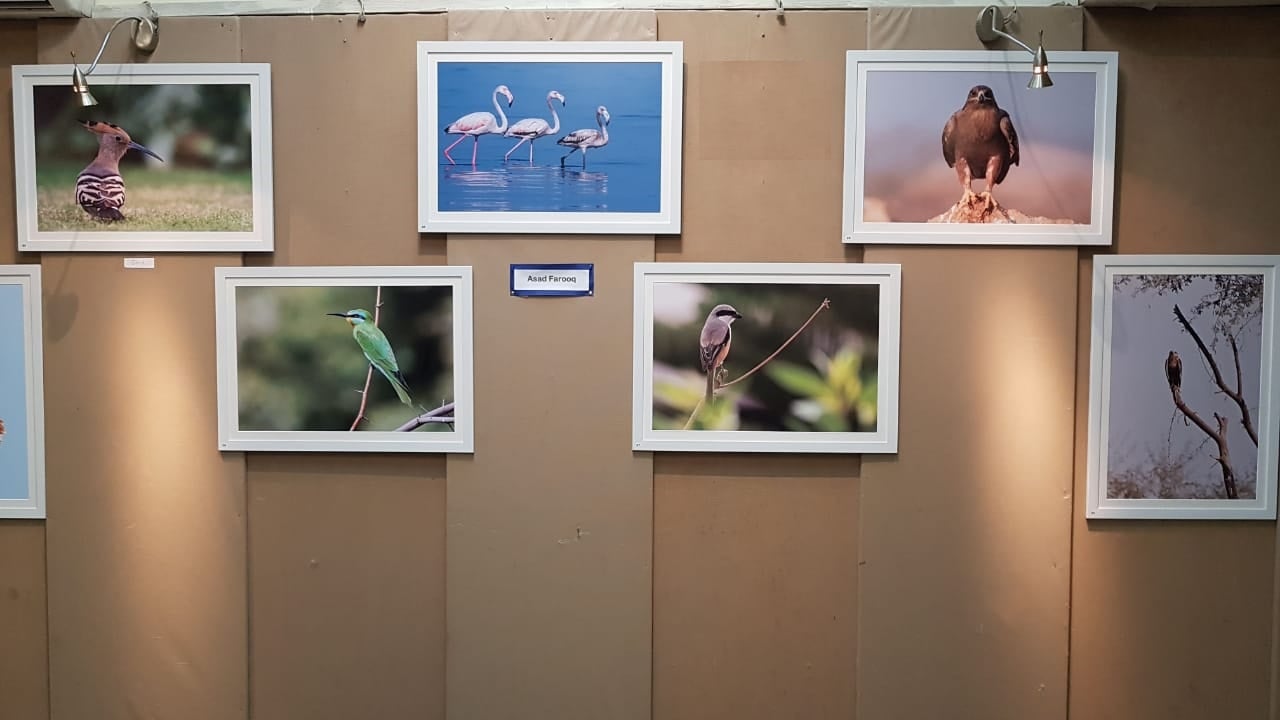 ---
KARACHI: Birding, a form of wildlife observation is becoming an increasingly popular recreational activity, where we see photographers and birdwatchers venturing into the wilderness to photograph and document a diversity of wildlife and birds which many hardly know exists.

'Birds of Sindh', an exhibition held at the Pakistan American Cultural Centre on Friday and Saturday to showcase the works of 16 mostly  amateur photographers, exhibited their passion for wildlife photography for the fourth time under the mentorship of veteran wildlife photographer and conservationist Mirza Naim Beg.

'Act of benevolence': Business of setting free caged birds thriving in Lahore

Long thought to be a domain of men, women were virtually none existent within the local birding community but new waves of passionate female birders are bracing this unexplored terrain of wildlife photography like never before.




To break this gender stereotype for the first time, three women photographers, Zeenat Bayat, Hina Rizvi and Pharahnaz Naveed exhibited their love for wildlife photography by featuring their masterpieces at the 'Birds of Sindh'.

Bayat, a journalist-turned-social-worker enthusiastically shared her love for photography with The Express Tribune, "I always enjoyed photography. In fact, when I was a journalist, I loved portraits that the staff photographers used to send me and wanted to outdo them and perfect the art of photography. That is how I became more interested [in wildlife bird photography]."




For Bayat, her passion for wildlife photography started when she use to observe birds at her garden in Defence Housing Authority's Phase V. To learn more, she started posting pictures on Facebook of what she had photographed and connected with other photographers.

"I thought these beautiful critters didn't even exist here. We are only familiar with four birds in Karachi, which is the crow, sparrow, common mynah and the black kite but many rare birds are found in Karachi, such as yellow-wattled lapwing, white-throated kingfisher and blue-cheeked bee-eater," she shared.

Sharing insight on ways to perfect your [photography] skills, Bayat said that photography is about capturing the moment. "In wildlife photography, you need patience because everything is moving and sometimes the bird flies off just when you are about to click," she advised.




Rizvi, an educationist, pursues wildlife photography as her passion.
"I was always passionate about photography but I was introduced to this whole new world of bird photography when I got connected with Mirza Beg and his group," she told The Express Tribune.

According to Rizvi, for most of her life, she only knew that all small birds are called "Chirya" and all big birds "Chee-eel". However, she soon learnt that that was not the case.

"When I went on my first birding trip in DHA Phase VIII, I was shocked to see such an amazing diversity of birds and learned about eight to 10 species I never knew even existed," she said.

Rizvi believes her photography is a tool to save endangered species, "In Phase VIII, there used to be nets casted by poachers to hunt rare birds. We went to the field with the police and the DHA authorities to remove them. We were successful in removing these nets and a lot of birds are returning back now," she remarked.




Ainy Kamrani, a housewife with a masters in zoology had voluntary worked with the group, also expressed her concern about the disappearance of wildlife habitats in Karachi.

Documenting Sindh's dwindling birdlife – frame by frame

According to Kamrani, nine years back in Gulistan-e-Jauhar, Block 8 - where she resides - the Karachi Race Course provided enough green space for rare birds to flock, preach and nest. Green-bee eaters, jungle babblers, fantails, parrots, bulbuls in summers and rare visitors, such as rufous treepie and redstart in winters were easily observed at the racecourse.

"Now we hardly see flocks of birds which I use to see a few years back. Rampant development and felling of trees have drastically reduced the habitat of rare birds. Where else will these birds nest and feed on if their very home is taken away from them?" she expressed with concern.




Despite the ongoing degradation of the environment in Karachi, Kamrani lauded the efforts of Mirza Beg and his team who lead a campaign in DHA's Phase VIII where they have actively removed bird nettings and traps used by poachers to entrap endangered birds, such as grey partridges.

Kamrani further expressed her concern over bird markets at Empress Market, which openly sells endangered black-shouldered kites, flamingoes and even turtles without fear of the law. "These are endangered species and protected by the law, but it is sad to see that the law enforcement agencies and wildlife department are not doing their jobs," she lamented.

She believed that the future generation is our best hope in saving our environment, "If only we educate our children more, I believe it can be the best way to save our wildlife from going extinct,"