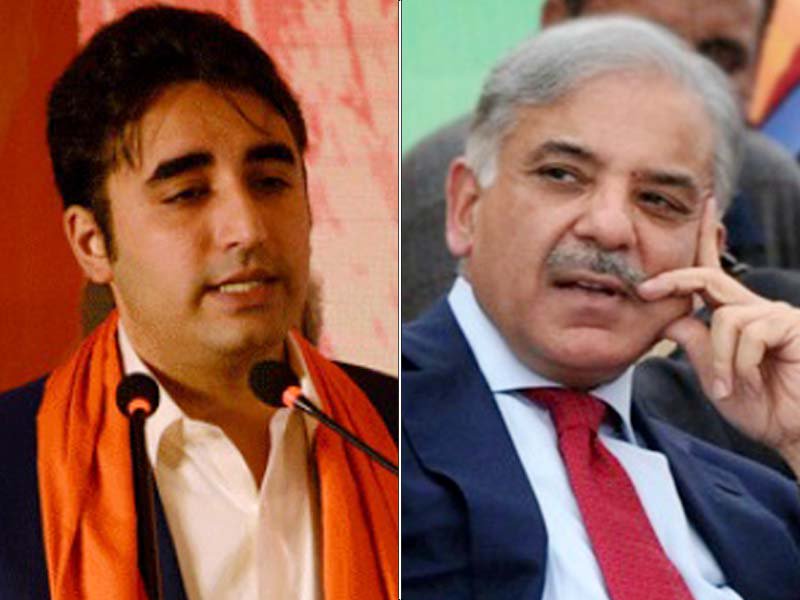 ---
ISLAMABAD: Despite attempts to paper over the cracks it has now become clear that differences have widened between the Pakistan Peoples Party (PPP) and the Pakistan Muslim League-Nawaz (PML-N).

The PPP on Thursday, in its parliamentary party's meeting, decided in principle not to vote for the opposition parties' candidate and PML-N president Shehbaz Sharif for the prime minister's post owing to the concerns of the party leadership.

The meeting was held in the Parliament House, which was co-chaired by PPP supremos Asif Ali Zardari and Bilawal Bhutto.

No PPP support for Shehbaz's PM candidature: Khursheed Shah

"We expressed our reservations to them [PML-N] about the nomination of their candidate for leader of the house," said former leader of the opposition in the National Assembly Syed Khurshid Shah while talking to the media outside the parliament.

The PPP leader added that they would only vote if Shehbaz was replaced.

While later at night, Jamiat Ulema-e-Islam-Fazal (JUI-F) chief Maulana Fazlur Rehman met Zardari at Bilawal House apparently in a last ditch effort to convince the party to vote for PML-N and not give a walkover to the Pakistan Tehreek-e-Insaf (PTI).

Cracks appear in joint opposition as PPP objects to Shehbaz's candidature

Rehman was the one who pushed for a grand alliance of the opposition to give the PTI  'a run for its money in and outside the house'.

For the election of speaker on Wednesday, Shah, the candidate of 11-party alliance of opposition, bagged 146 votes while the winner Asad Qaiser received 176 votes.

In the process, about eight votes were rejected while for the deputy speaker the PTI candidate secured 183 and runner up received 144 votes while one vote was rejected.

The number votes for both the candidates clearly suggested the internal unease within the opposition which could not even secure votes of its own members in the house, suggesting smooth sailing for PTI chief Imran Khan to become the next premier of the country.